Fashion is not something people can understand at an entry level. 
Every day in eCommerce, fashion is a popular niche where online stores are prevalent across the globe. 
Making your brand stand out amongst other clothing brands is essential to keep up with the rising industry. Keeping a unique selling point is the best place to start. 
We cannot deny how challenging it can be to find the unique point of your fashion products. This challenge led many entrepreneurs to start their fashion products from ground zero and create on their own. 
They are making hard decisions like what type of clothes to supply and which customers to sell to. However, there is enough guidance out there that can help you start this process. 
Even as an entrepreneur, launching your own clothing company with custom-made clothes would require your own unique design. More importantly, you are likely to have to find a clothing manufacturer that can create your designs into a reality. 
While there are many things to consider, this article will present you as a guide to get you on your way! This will help you understand the requirements that you'll need when looking to manufacture your own clothing brand
How Important is Finding the Right Clothing Manufacturer?
The answer is that you'll need to consider the financial and time risks when working with different clothing manufacturers. 
While there are definitely huge profits you can gain out of it, you will need to weigh the pros and cons between them in order to finalise your decision. 
When it comes to the pros of having a clothing manufacturer, ownership and creativity is key. With your own manufacturer, you can secure the creative freedom to produce the type of clothing of your desire. As a result, you get to own and control the brand image, as well as taking charge of your brand's marketing.
On the flipside, some people do not prefer having a manufacturer. There are indeed a few disadvantages on the business level, such as having to make bulk purchases for your items. By having to make an upfront payment, you are by de facto increasing your risk of making less profit 
An important consideration is a fact that you have to create bulk orders. For inventory sake, you'll receive a large number of products for storage management on your end. 
For a lot of entrepreneurs, this would work out fine. However, the risk of eating away your funds could be a risk, especially on tighter budgets.  
This would not be a problem if your audience is favourable towards your brand's clothes, but we cannot assure that this occurs 100% of the time. 
It is an issue that even massive retailers face every time. But in their case, they are able to afford some of their losses. This is especially so if some of the clothing they sell wouldn't be ground-breaking for their consumers. 
If you aren't well-equipped for the risks and looking to start in a smaller scale, dropshipping with some extra padding is another method to start your very own clothing store.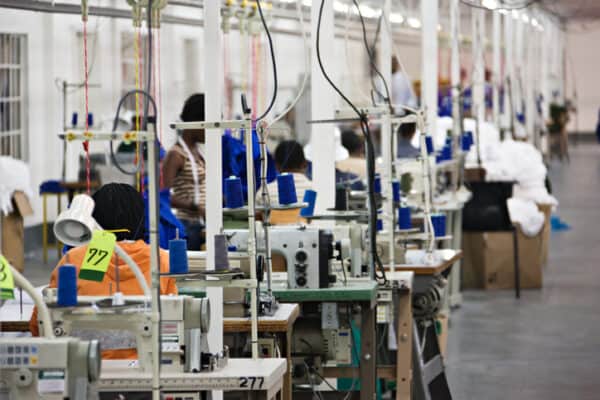 Things To Look For in a Clothing Manufacturer
When venturing into the business of clothing or fashion industry, you will need to consider a few things before choosing your clothing manufacturer. 
1. Can They Make Your Product?
This question can seem quite obvious to many people. However, it is definitely an essential thing to ask first. One thing to note is that not all clothing manufacturers can produce every single type of clothing. 
To put this into context, outdoor clothing would require special materials like lycra or waterproof fabric. You will need to ensure that your manufacturer is able to create clothing products utilising those materials. Especially if you pick a manufacturer who specialises in swimwear, it will help your business if you focus on stylish swimwear. 
This applies to the same case as a luxury clothing brand. You would need to consider working with manufacturers who have experience in other luxury clothing brands. 
2. Country of Origins of the Manufacturers
As the world is becoming "flatter", you have more choices in the location of the production of your fashion products. It might be difficult to find viable clothing manufacturers close to you from an economical expense standpoint. However, if a locally produced product is important to you (for easier control for example), it might work depending on your preference. 
When we discuss domestic manufacturers, as it's near our proximity. While any reference of overseas manufacturers are scattered around the globe. 
It is undeniable that both options have their own advantages and disadvantages. It is a careful decision to be made as a lot of factors are affecting the cost and risk. A very obvious cost would be trade duty levied from one country to the certain importing country. The following will break down the pros and cons of working with some of the origins of the manufacturers (in general). 
Mainland Chinese Manufacturers
The huge benefit of using Chinese manufacturers is cost. They are usually a lot more affordable in price, thanks to the experience accumulated and also relatively bigger supplier base.  
Chinese clothing manufacturers have been popular for several years, and companies find that they could produce all types of clothing and easily resell them online. Another huge benefit of Chinese clothing manufacturers is the cost of other services. For example, logistics cost could be lower as there are a lot more service providers and capacity handling the shipment as compared to a manufacturer closer to you. (Do get quote from shipper for more accurate calculation).
For a more in-depth guide on manufacturing in China, we have another guide readily available.
Others Clothing Manufacturers (US, Europe, Southeast Asia etc.)
We cannot deny that these clothing manufacturers can help create the products you require for your brand, and sometimes at a lower production cost compared to those from China. 
Another benefit of overseas clothing manufacturers is the wide variety of options. For things like fabric, styles and such – they are more inclined to provide the materials and product you need. 
On the contrary, this comes at a financial cost. While it can cost more for higher quality through domestic clothing manufacturers, you will have to pay more, especially for rarer quality if they don't exist on a local scale. 
Moreover, the other downside is a longer shipping time for your clothing goods. On top of that, shipping costs from overseas clothing manufacturers are more expensive than domestic. 
We cannot forget how difficult it would be to visit and inspect overseas clothing manufacturers. Even if they can produce quality clothing, you will need to consider finding a reputable supplier. 
In a modern age of advanced technology, many manufacturers can scam their victims with high-quality fake images and forged documents. 
3. What is the Minimum Order Quantity (MOQ)?
Knowing your clothing manufacturer's minimum order quantity is important. MOQs usually mean the minimum amount of items you have to buy within a single order. It can range from 150 to 1500 items, sometimes even more. 
It is quite rare for manufacturers to not have an MOQ. Hence, it's essential for you to understand that when starting your business with a manufacturer. For your first order in particular, if they tell you that you need to buy 3000 units of swim trunks for manufacturing – it can be very unaffordable for you.
In addition, it may not be a good idea to purchase 3000 clothing items if you aren't certain you can sell them all. This can result in excess stock, which is very difficult to move around. Make sure that the MOQs set out by your supplier are manageable for you, especially before you begin working with a clothing manufacturer. 
For an extended reading on MOQ, we have another blog post dedicated to explaining, finding and setting MOQ.
4. Can They Provide Product Samples?
In clothing stores, they have a reason to include changing rooms for their customers. That is for people to know and understand what they are buying before committing to it. This plays the same for your manufacturer. 
If you are choosing a clothing manufacturer to produce for your company, you will have to get samples right before jumping into a large order quantity. It is extremely vital for you so there can be room for adjustments until the final product is ready for mass production. Imagine ordering a hundred sweater vests you designed, and finding out that they used the wrong material or they produced the wrong colour. 
It is best to bring this up during your first few stages of business communication. A lot of manufacturers are open to providing samples, even if it's going to cost. But it's better to play safe than sorry – before it's too late. 
5. What Are Their Fees and Shipping Costs?
If you're feeling the hype or very energetic to start your clothing brand, it might be very easy to make simple mistakes. This takes small effort to send an email, asking manufacturers if they will charge additional fees and what shipping costs & time would be. 
It is very important information that can be easily overlooked. Hence, you will need to lock down this aspect of communication with your supplier early on – before it's also too late. 
Finding a Clothing Manufacturer for Your Business
After breaking down the advantages and disadvantages between domestic and overseas clothing manufacturers, we need to identify the different platforms to find the right supplier. 
Directories provide a plethora of clothing manufacturers to start your business. The HKTDC's sourcing site is a great start to find your local clothing manufacturers. You can find a variety of suppliers from Hong Kong & Mainland China. 
If you are looking for an overseas clothing manufacturer, HKTDC's sourcing directory offers suppliers from other parts of the world, such as Thailand and Indonesia. Once you find a suitable candidate for your clothing manufacturing, you can directly reach out to them and explain your needs to initiate the business conversation. 
For a lot of people, this should not come out as a surprise. Google is a great resource to search for your clothing manufacturers – especially on an international scale. 
An important thing to note is that many manufacturers typically won't maintain their websites, so there would be a lot of outdated resources lying around, making it a less user-friendly experience. 
The bright side to this is that many legitimate clothing manufacturers promote on their websites, so it shouldn't be challenging when searching on the first few pages of a search engine. 
Networking and talking to various people in the relevant industry for advice is always a valuable asset that you cannot withhold. Especially for clothing manufacturers, it is important to understand that many factories carry the standard level of substance control and comply with textile regulations – especially if they are not legal in your country. 
For clothing manufacturers, clothing size would be a massive challenge if you are selling in multiple markets across the globe. Thus, it is essential to find a manufacturer who can allow you to make custom labels for various clothing sizes. Speak to others who have worked in various markets. It helps you understand the obstacles you are likely to face in certain countries in regards to regulations. 
Finding a reliable manufacturer can be rough, but having a great understanding of the trading basics will bring you a long way. 
Refer to this article as a healthy reminder for the fundamentals of trading basics:
https://sourcingsupport.hktdc.com/hc/en-us/sections/360009415133-Trading-Basics
Industry meetups hold a strong value in your exploration. This means attending local events or massive trade shows, where plenty of people with trading and manufacturing backgrounds can help set the right connections for you to your clothing manufacturer.
Trade shows (known as trade fairs) are usually held as an exhibition for manufacturers to display the products and services they provide. Manufacturers take this great opportunity to meet other manufacturers alike to share their expertise. 
Similar to an industry meetup, you should take advantage of these events in order to build trust and confidence – and possibly establish a new business and personal relationship with other clothing manufacturers. 
For trade shows in Hong Kong, please visit HKTDC Events for the latest updates.
Facebook is crawling with many entrepreneurs and people in the manufacturing industry that are looking to spread their knowledge with the community. 
Here are some of the many examples for Facebook groups handpicked by HKTDC staff that support brands who are searching for their clothing manufacturers:
Utilising the various information on those platforms can help you find the ideal clothing manufacturer for your own brand.
Do ensure that you have understood and read through the group's rules before you apply for the entry, as these groups would usually moderate to prevent spam or fake entries. This also makes Facebook groups a genuine place to start searching as they are heavily regulated by communities. 
Choosing Your Right Clothing Manufacturer
As discussed in previous sections, you will have to make the decision between domestic or overseas clothing manufacturers, based on your preference. While there are pros and cons between working with domestic or overseas clothing manufacturers, you will need to consider the costs between price and quality. 
Domestic clothing manufacturers would offer higher quality at the cost of higher price. For overseas clothing manufacturers, they offer rare clothing material that isn't usually found in your local proximity. It is ultimately your decision to determine which manufacturer can provide you with a higher product quality at a price that places well with your current business expense. 
Finding a manufacturer who can accommodate quicker shipping times is probably convenient. As discussed in previous sections, you will have to pay more for overseas shipping. 
Overseas manufacturers will also come at a cost for time. Domestic manufacturers are very close and more accessible, so it's quicker in their case. 
Even though domestic manufacturers can thrive in shipping time and costs, you may be at a limit for options in regards to product variety. Domestic manufacturers may not offer every single clothing type out there, which can be a rough search if you are looking to offer a niche that is not available in common places. Luckily, China has led the clothing manufacturing industry for quite some time, making the search for variety in clothes for your fashion brand very easy in terms of domestic manufacturing. 
Working with a manufacturer who carries valuable experience and good communication skills is ideal. They tend to have a strong benefit towards a smooth production flow, which helps in particular if you want a great start to your clothing business if you're new. 
Other than that, a great wealth of experience ensures a good relationship. Having a well-placed business relationship with an experienced manufacturer will help you down the road, especially when handling future endeavours.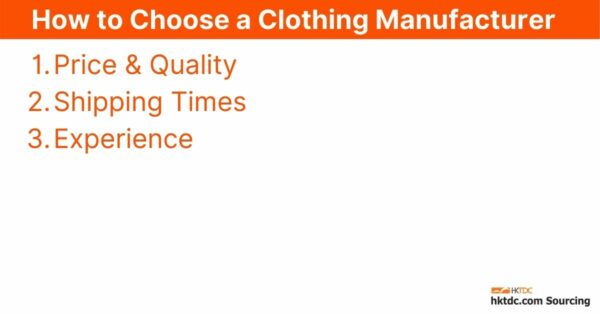 To conclude, there are several important things to consider when finding a clothing manufacturer for your business. Especially for entrepreneurs like yourself if you are starting out, you will need to navigate and find the one manufacturer who suits your criteria.
Certain criteria involve weighing out your preference between domestic or overseas clothing manufacturers. Asking for product samples, getting the appropriate MOQs and understanding shipping fees & cost will support your navigation around the industry.
There is also a range of networking options to search for your suppliers and find an experienced manufacturer who can benefit you in the long run.