In the past years, e-commerce has been on an uphill trend, the internet has become a commonplace for purchasing products and services, as a result, many e-tailers have experienced enormous business growth where traditional fulfilment method that requires physical and traditional handling is considered to be an e-tailer's most complex task; this is why e-tailers are seeking a method that can provide an efficient online order fulfillment cycle. This guide offers you a thorough understanding of the challenges you will be facing when you decide to run a dropshipping business and how well you should get yourself prepared for these difficulties. 
Dropshipping is an order fulfillment method that does not require a business to keep any stock. Instead, the online platform sells the product, passes on the sales order to a third-party supplier, who then ships the order directly to the customer. Basically, you are selling other people's products and making a cut for yourself without the hassle of dealing with storing stock, packing, and mailing it. What you need to do is to set up an e-commerce website, plug in the add ons that you need for the business, search the products you see their potential on a third-party platform, place online advertisements, then here you go the dropshipping business! 
It all seems easy breezy, but now, let's look at the downsides and why you need to rethink before you make your decision.
The environment is Ultra-competitive
Starting a dropshipping business is easy but not when you need to keep it running. This is not the easy money maker that it has been advertised – low capital, work from anywhere, no stock concerns. The truth is there are so many little things but also big things involved in running an online business, including designing the website, interface, accepting payments, customer service, and many more! And yes, that goes for dropshipping websites as well! 
As an e-tailer, you are responsible for designing a user-friendly and responsive commerce site, maintaining the website, providing customer service, placing orders, and bringing in online traffic by placing advertisements and refining the target from time to time. This will all be time-consuming and difficult, if you are not well-versed in web design, SEO, or placing online advertisements. For newbies, make sure you have a good grasp of the business model, eCommerce skills, and sufficient customer service skills before you begin.
It all seems very simple which means it is easy for someone else to start too. It requires very little capital and because of this low barrier to entry, you will be facing an overwhelming market and competition, even if you think your product is in a niche market. For example, there are numerous dropshippers in India, who are skillful at designing SEO-Friendly websites and content. 
The only solution you can stay competitive is to reduce markups to offer the lowest price, then here's the problem, the market keeps growing, more competitors coming in, and don't forget customers usually shop at the first store they see. In order to come on the top, you will have to find a real niche without too many competitors and make your product listings different from others with a high-quality description. 
Worst comes to worst, there's still a chance to fail for this solution – you do not have exclusive deals with your suppliers, meaning anyone who's on the platform can also be selling exact same products. Customers can simply look for the cheapest e-tailer for the product they want with a few clicks. Therefore, it is true that the upfront cost is very low because you do not need to stock up any products before you start selling, but the competitive environment is inherent in all businesses, especially for dropshipping. 
Time Consuming in search of new products
As mentioned earlier in the article, due to the highly competitive environment and you do not own the product itself nor its exclusivity, it is important for you to keep up with the trend and look for the next hero product. However, it doesn't come easy. 
First, you will have to identify the product that might be well received by the market. where you will need a lot of time in doing research – on the product itself, market trends and check to see if the cake is already sliced by many. 
It's not like going to a supermarket with a grocery list that you just pick and choose, you are basically going into the ocean without a list but the only thing – what makes the most money. 
High in sales volume, low in margins
While dropshipping may be the most convenient way to fulfill orders, it is definitely not the most cost-effective and hassle-free option.
Non Exclusive Product Offerings
You will be buying products from a wholesaler, but they won't give you a bottom wholesale price at the start or with a small volume. Since you won't be buying products in bulk to get a quantity discount, but on a one-by-one basis, once your customers order them, you certainly won't get the lowest rates for your online store.
Furthermore, please don't forget, you'll have to pay additional fees in order to get the wholesaler to pick, pack, and ship each customer's order, and your profit margin will suffer from the above-mentioned accordingly. Most drop shippers make around 10%-15% net profit, do know that, big-ticket items typically give the lowest profit, while cheap accessory products deliver higher margins.
According to Shopify, the average dropshipping success rate is between 10% and 20%.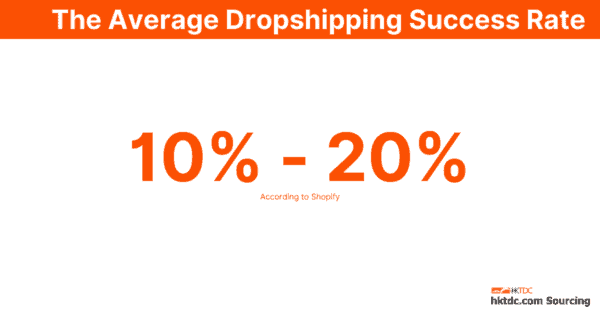 To succeed in dropshipping business, the more products you provide (since there's no stock up required) the higher sales volume you will get. However, shipping expenses can add up so quickly when you do this kind of dropshipping model, particularly when your store is using multiple dropshipping suppliers. For example, you are in a cosmetic dropshipping business, using five different suppliers to increase your product offerings is such a normal practice. Therefore, when one customer orders different masks from each of those five suppliers, you'll have to pay for each individual shipment instead of just grouping those items together.
This can lead to super high shipping expenses, and it's difficult to find a way to offset those added costs. It isn't a good idea to pass on the expense to your customer, as such a high shipping cost will likely cause customers to abandon their carts, what is even worse – they will look for someone who's willing to offer free shipping. Therefore, if you choose to dropship, limit your number of suppliers and review on a regular basis to keep this expense lean.
After you got your domain name ready, set up your store, added the products you want to sell, fixed the payment gateway, then what's next?  Now comes the hardest part, you will need to get people to your store and convince them to buy your marked-up products, with a 20+ day shipping time (yes! We will talk about this point later.) 
Nevertheless, you will need to spend money on advertising of your new store, not just because it's new, but also you wouldn't have done any SEO to it (not that many store owners bother with SEO anyway, it's not that easy, it requires understanding on keywords trend and make sure this is well converted on your website). All the gurus will suggest you to start a Facebook Ad campaign, it's a no brainer to start and you only need to spend $5 a day. The fact is that there are many professional marketers out there that are failing miserably at Facebook ads, even big international companies. This is simply because Facebook ads are hit or miss these days, with so many changes to their algorithm and also the increase in price, again you will have to keep your page on-trend.
Take an example, yesterday you spent $20 on ads that brought you 10 new customers to your online store, but today you spent the same amount on ads and nobody even clicks the store link to go to your store. Therefore, you will need to increase your ad budget to $60 in order to get 10 new customers, and it will just keep changing. 
Therefore, before you start to create an ad campaign on Facebook, please either does some research on what the options are in the market to get website traffic or have a thorough understanding of how Facebook Ads work.
Because you are outsourcing warehouse and fulfillment to your dropshipping suppliers, your products will go directly to your customers without touching your hands. That is great for convenience, but not so great for quality control or should say there's no quality control at all. 
You won't be able to do product inspections to make sure they're up to standard or at least match the product image and descriptions. Since you won't be in charge of shipping, it's totally up to your supplier to get products out on time and how they pack them, but your customer's complaint on any faulty products or delayed shipping is on you (and, by doing drop ship business, you will need to know that this is your responsibility).
In short, shipping products directly from supplier to the customer may be convenient, but it also puts you at risk for negative customer feedback about factors that are literally beyond your control.
Returns are the unfortunate reality of eCommerce and you must have experience doing so as a customer too.  According to some market insight reports, up to 25% of all online purchases are returned, with fashion and health/beauty items showing the highest rates due to variable issues. With the potential unreliability of dropshipping suppliers and no quality control over the products you sell, a higher chance of return appears. 
Some dropshippping suppliers are willing to take faulty products back, but you can't count on it. If your customer is dissatisfied with your product, you may have to purchase a new product on their behalf and cover shipping expenses out of your own pocket. Therefore, you should have thorough research on the credibility of the supplies as well as avoiding easily returned items (beauty and fashion!)
Customer Relationships Management is hard
High chance of getting numerous complaints
We have mentioned it under shipping expenses but it could also have a bad impact from a customer point of view. If a customer orders multiple products from multiple dropshipping suppliers for these different products, then you simply can't combine these products into one package. Which means that your customers will receive multiple packages and might easily lead to a potential complaint after they received the first package as they think their order is incomplete.
In America, especially after Amazon started prime delivery, people now prefer ordering products from it because they can get theirs in just a single day. However, dropshipping is usually from China, so the minimum shipping time is at least 20 days. People can't wait this long to get their products. Another reason most dropshippers fail is that they don't order products through ePacket. This means the buyer won't get a tracking number, decreasing his trust in the store.
Some dropshipping business owners may think that retaining clients isn't that important. All those concepts about loyalty and the importance of getting 'return customers' are just marketing jargon. It is true that your ultimate goal is to sell a product and get profit so you will think of promotions. However, improving customer loyalty brings impactful results you don't want to miss. Loyal customers cost less (more cost-effective!) and they tend to buy more and if they are happy hence free promotion as they become the powerful word of mouth influencers. 
However, most customers will forget about your store after buying and receiving the products if you have minimal control over inventory, shipping and returns to ensure their buying experience under this dropshipping business model. 
Relying on other people's stock solely
It's unlike you have a physical warehouse you can do the counting, it is difficult to be sure of your stock level under a dropshipping model. Simply because your store's ability to fulfill customer orders depends on your suppliers' stock. If for any reason stock levels have dropped dramatically, and you're unaware of it, you may end up selling products you don't actually have on hand. And that will lead to your store's credibility.
However, some suppliers offer APIs that give you real-time access to their stock levels, which resolves most of this issue and always look for a supplier that offers this service.
Finding reliable suppliers is crucial
You know, it's not enough to just order something from a supplier and expect everything to go smoothly for each order. Instead, you know it is important to build a great relationship with them and hope they can handle all your orders timely and in a professional manner.
Also, you would want to ask them not to include any invoices from their company and promotional leaflets inside the packages. Therefore, building and strengthening your relationship with your suppliers is one of the important components to get a customer satisfied with the whole experience.
Deepen your research to find the right supplier!
Finding these great suppliers requires a lot of research and digging through a lot of information. It is however worth it once a reliable supplier can save you a lot of time and money down the line.
Most dropshipping businesses don't really care about making contact with the vendor and just rely the whole process on the supplies that they don't have a relationship with. If you want your dropshipping business to survive, this is something you should be aware of.
Possibilities in make dropshipping long term
Its difficult to build a long-term business
Dropshippers must understand that the credit for their work goes to someone else. The product you're selling is amazing, your customers are happy and they are going to focus on the product's brand itself but not your store.
Branding to keep customers loyal
Branding is crucial in ecommerce, as shoppers tend to go to their favorite online stores when they plan to buy. Without customer loyalty, it's hard to get the regular traffic needed to sustain an online dropshipping store and you can only get this traffic through paid advertisements. 
Be Aware of the Country's Laws Where You Market
Every country has its own laws, please ensure that you are aware of the country's laws before you start marketing. Some countries have a policy that certain products cannot be imported.
For example, India bans most products made of cow skin. Having the knowledge about business governing laws of different countries before you market to them.
There's no way to sell your dropshipping business!
Unlike other businesses, if your business has great profits or potential, there's always a market in selling the business out. However, for dropshipping businesses, it is not easy to get people to buy your store, no one is willing to pay a turnover fee in buying your business even if it is profitable simply because they can create one so easily!
Hence, dropshipping business is more a short-term profit generator. However, it is still a good business model with the if you can take note of the points above and get them right!