In the past decade, there is a growing trend of companies adopting the "private labelling" model for their business. Many may assume that private labelling is a straightforward, no-brainer approach to operate their sourcing business. However, the truth is: if you have hands-on done private labelling, you would know by first-hand that the industry has become so challenging over the years.
Let's take the beauty industry in Hong Kong as an example. Speciality cosmetics chains like Sasa, Bonjour, Aster, Colourmix and Angel Beauty Bar are prominent in Hong Kong. They thrive by mainly selling international brands with steep discounts. But they also launch their own private label products as well, which are exceptionally successful and popular. In the health and personal care sector, chains like Watson's and Mannings are also leaning towards cosmetics and skincare products in recent years, selling mainly international brands.
Some top international suppliers have secured licensing agreements with supermodels and fashion brands as brand labels – that way, they can produce fragrances and cosmetics products in celebrated names. Some also reach out to runway fashion brands, such as Anna Sui, Chanel, Christian Dior and Armani. This approach helps leverage more top-notch, tasteful brands to offer more choices to consumers under their private labels.
It's definitely not an easy business approach, but the key lies in finding the best private label manufacturers. Surely, you want to secure your product units at the lowest cost in order to ensure the biggest profit margin. To do so, you must establish a relationship between businesses and manufacturers. Only by that can you successfully venture into private labelling.
This article will break down the how-tos and tips of private labelling. By the end of this article, you should be able to identify:
the benefits and risks of private labelling

the best qualities of a manufacturer

the pros and cons between choosing domestic and overseas manufacturers

how to start sourcing private label manufacturers.
What is a Private Label and How Does It Work?
A private label product is produced by a third-party but sold under the retailer's brand name.
The approach is very similar to white label products – we will explore more what white label is and the differences between Private Label vs White Label later in the article. Private labelling refers to the goods created by one company to be sold and branded by another company. In most cases, business owners are searching for a product that they can brand and sell under their name. It is a common business approach and particularly popular in the clothing and cosmetics sectors.
The retailer has 100% control of every aspect of the product – or products if the label contains multiple offerings. By every aspect, we are referring to the product specs, its packaging and design, its brand image, selling outlets and more.
Upon having an agreed arrangement and placing an order, private label manufacturers will deliver products to the retailer for retailing. From the customers' perspective, they are purchasing products that are coming straight from the company. They perceive the product as the company's 'own brand' products. For instance, a collaborative makeup retailer might launch a private label line of skincare products on the side of her business. In reality, the skincare products are produced by a different manufacturer than her collaboration makeup pipeline. But from a customer's point of view, the products are being sold under the same brand name as the said retailer's company.
Many consumer product categories come in various lines, often in both branded and private label lines. Previously, we have talked about which sectors are the biggest practitioners of private labelling. Here, we have more examples and context of how private labelling is being put into business use case:
| | |
| --- | --- |
| Personal Care & Grooming | Beauty parlours such as nail salons and hairdressers may offer their branded, private label nail polish, shampoo, etc. |
| Food & Beverage | Supermarkets and grocery stores' own brand assorted snacks, sauces, drinks etc. |
| Fashion & Apparel | Well-established, high-end fashion stores would have a good mix of their own private label lines alongside other branded products. |
| Pet Food & Accessories | Pet stores provide pet food, toys, and more with their own private label. |
Benefits of running a private label
Apart from minimizing the work needed in product development and research, private labelling comes with a number of benefits for retailers. On the upside, you as the retailer regain a lot of control and flexibility over:
Production:

You can give instructions to third-party manufacturers and customize your choice of materials, ingredients, product quality, and production unit rate.

Pricing:

Since you are the retailer, you get to define your price point and strategies. You have a say over optimizing production costs. This can greatly help with securing your profit margin in an organic, healthy manner.

Adaptiveness:

Private labelling plays out to smaller businesses and retailers' advantage. This is because the model provides smaller retailers the flexibility to adapt new features to the product according to market demand. Contrarily, big players in the industry often would forego the opportunity of developing a niche product.

Marketing strategy and branding:

You have full control over how to make your product appealing to your target customers before launching it onto the market – from promotion strategy to packaging.
Disadvantages of running a private label
With benefits comes its drawbacks. Running a private label does not come easy – there are certain challenges, and risks retailers must be prepared to anticipate:
The dependency on your manufacturer:

Since you have to hire an external manufacturing party to produce your product, you are highly dependent on your manufacturer in order to get the product ready for sale. It is crucial to find yourself a trustworthy, reliable manufacturer to collaborate with in the long run.

Great difficulty in building brand loyalty:

Brands take time to grow, and so does gaining traction to a brand from ground zero. Hence, many people and brands who have already amassed a huge audience would go for private labelling. In theory, branding your own product could be enticing and exciting. However, in reality, newcomers in the market struggle hard to build up brand awareness, let alone

loyalty

. On top of that, your competition is the big players with an established reputation and scale in the niche. That means they are most likely better known by your target audience; their products are already available in more sales channels and retail point. They would also have more marketing budget to spend on brand awareness promotions. It is not an easy competition to knock out, especially when your products are only available at your store.

Negative connotations of "private label":

Too often, the general public assumes that the term "private label" refers to products that are cheap or made of very low quality. This perception stems from the past private labels, but as eCommerces and brands evolve, so does the common perception. More consumers – regardless of geodemographics – are now more open and receptive towards private labels. They are willing to try or purchase such products.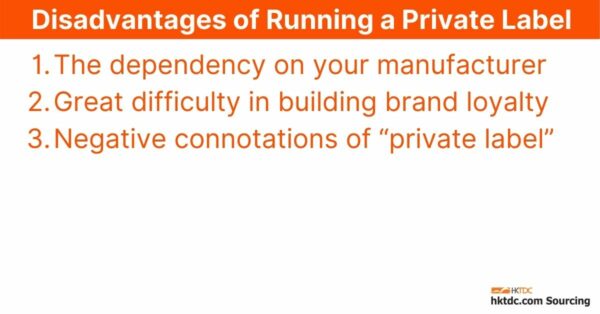 The difference between Private Label Vs. White Label
A white label product is a product that manufacturers create as a readily available option for retailers to order. It is a consented practice that retailers are allowed to apply their own brand name and branding to resell this generic white label product. Because of its established position in the marketplace, white label product retailers can enjoy the privilege of charging a premium on the product.
Although private labelling and white labelling may seem to be similar concepts and business models, there are some nuances between the two. Here is how we would identify their differences:
Exclusivity:

Private label manufacturers produce products exclusively for their retailers; white label manufacturers do not. In fact, their product serves multiple retailers.
Flexibility in product modifications:

Private label manufacturers allow their retailers to modify the product according to the brand's needs; white label manufacturers do not. The white label product is technically set in stone, but retailers can rebrand the product to their liking.
Branding and positioning:

Private label retailers will need to make extra effort to brand its product and build its presence, but it will retain its originality and niche audience; white label retailers can ride on the white label product's existing market presence and make a quick business start.
White label manufacturers usually provide a generic product for multiple resellers. Taking lip balm products as an example, a white label manufacturer would sell the same generic lip balm to 20 different retailers. The white label retailer can rebrand the lip balm as their own, but they're all essentially selling the same lip balm with no difference. That is why some convenient-store-brand products may look the same, even when you buy them from different convenient stores.
Although white labelling provides a fast track into the market, but since the product is technically the same as your fellow white label retailers, it does not give you a unique selling niche. Since it is harder for customers to distinguish your brand, your job will be to make sure your brand stands out from your competition.
Contrastingly, when it comes to private labelling, the product is exclusively created by and for a single retailer. Continuing with the lip balm example, the private label retailer can enjoy the liberty to customize the recipe or the ingredients to fit their product requirements and brand values. The modified lip balm will be a unique product to that particular retailer. Even the looks and packaging can change according to the retailer's branding colours and guidelines. This would help stand out greatly from generic white label products.
Private labelling requires extra effort when compared to white label solutions, but it serves as a great option to create customized trending products, like the best selling niches of 2021.
How to start your private label business
The biggest appeal of selling private label products is that you can skip all R&D efforts. Without product development involved, you can worry less about inventory investments. But don't jump straight to the conclusion that private label business is easy. There are still some challenges you must iron out:
1. Identify your niche: find the right market and product to sell
When it comes to private label products to sell, the options are endless. To say every industry has room for opportunity is an understatement. Based on market observations, the most popular categories of private label products span from women's hair & body products to men's beard grooming products, pet products to baby products, as well as health & wellness products.
To narrow down what's best for you to sell, study the markets and find the different niches. Once you have identified your niche market, you can target your potential customers by using strategic marketing channels like social media, online content and advertisements to make your product more prevalent in the market. Even household creations and handmade products can succeed with great marketing strategies – surely private label products stand a chance to succeed, too.
2. Reach out to your manufacturer
Once you have locked down on the product to sell, find manufacturers and suppliers who specialize in producing such items. Some manufacturers like Dripshippers may be experts in particular product categories.
Shortlist your preferred manufacturers and reach out. Ask them if they provide private labelling options. If so, proceed by setting up an account with the manufacturer. Since most manufacturers produce a wide range of products, this move will give you short-cut access to source products within your niche from the same manufacturer. Also, don't forget to ask if the manufacturer has a minimum order value or MOQ. You may want to do some careful calculations if you can afford the upfront payments.
3. Place an order for samples
As sellers, you want to ensure the best customer experience before you sell anything. Hence, it is crucial to test and see the product by yourself, for yourself, before you put the product up for sale. You may have a great impression of the product from its product photos and reviews online. You may also be having a good hunch on the product based on your interactions with your manufacturer. But putting all these superficial factors aside, you still need to verify the quality of the product yourself. Because in some worst-case scenarios, some products can turn out to be of very poor quality in real life. In order to avoid that, you should place an order of product samples from your manufacturer. That way, you can do your due diligence and quality assessment.
How to find your private label manufacturer on hktdc.com Sourcing?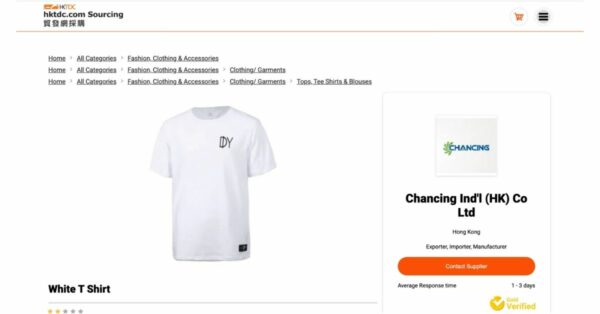 We know it is not easy to find manufacturers, let alone private label manufacturers. To facilitate retailers, our hktdc.com Sourcing website has been set up to serve the purpose. Simply search for ODM manufacturers, just like Chancing Ind'l here – an HKTDC Gold Verified manufacturer – and you can start your research at the ease of your home. In this case, the manufacturer produces on your demand and offers customized order and ODM processing. Plus, with our Gold Verified recognition, you can be reassured that the manufacturer is reliable and provides quality goods.
Chancing Ind'l is a Hong Kong local import and export manufacturer. It produces all print products itself, as opposed to using a third-party supplier. If you are ready to start your private label T-shirt business, you can easily kickstart with Chancing. Get your designs printed on Chancing's white T-shirt by the manufacturer's on-demand print service, and you are good to go.
For more merchants like Chancing Ind't, visit our hktdc.com Sourcing site and start finding A-list manufacturers.
For new sellers, private and white labelling are great options to kickstart a business. The model allows newcomers to build a product without building their own production line or product-specific warehouse, nor does it require making new hires to follow through the production line.
Both private and white labels come with their own pros and cons. However, it is not an either-or situation where you must choose between either one of the two options. What it requires is the understanding and decision of making the type of business that works best for you. That way, you can narrow down what type of product you need for the business. In the end, you should choose the product type and business model that suits you best. Consider the budget and resources you can pool in, the brand and objectives you are going after, and the commitment you can make towards your eCommerce business.