You've captured lead information and made the initial contact with your potential customers through a "cold email" successfully. After this comes the fun part, and there is no time to simply sit back. The subsequent lead nurturing process is crucial for maximising and follow up sales, and this is where follow up emails are key. 
Follow up emails can even outperform initial outreach. 60% of customers tend to say "no" four times before saying "yes" according to research. Companies can significantly impact the sales process with persistent communication and providing value to leads through follow up emails. 
What Is a Follow Up Email?
A follow up email is a message that is sent after an initial contact with someone, such as a potential lead.
These can be used to: 
Engage with leads after the first interaction
Re-engage with unresponsive leads
Provide information to convert leads
Check the status of sales opportunities
Foster relationships with leads
Main types of follow up emails to fulfil these various objectives:
Lead nurturing emails – These are the most common follow up emails. They can include information and personalised offers depending on your objective.


After-sale emails – These emails are sent after a customer has made a purchase. They can involve a thank you message or contain a request for feedback.


Marketing emails – These emails can be sent to existing customers and prospects as part of an ongoing marketing strategy. Promotional offers, product announcements, or personalised recommendations can be provided, and a strong call to action (CTA) is generally included.
How to Write an Effective Follow Up Email?
Here's a step-by-step framework and tips on writing and sending compelling ones, for building trust and rapport: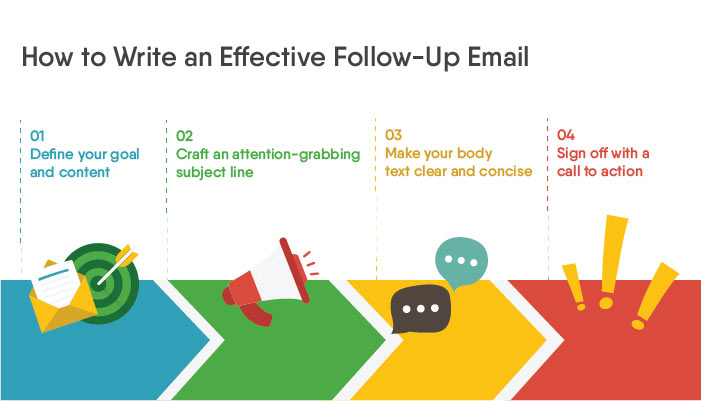 Step 1 – Define your goal and content 
To do this, you can choose which of the three types of follow up emails you want to send. 
You can provide value-driven content, such as actionable tips to nurture a lead. On the other hand, after-sale emails are a good opportunity to introduce upsell offers or related items. 
Step 2 – Craft an attention-grabbing subject line 
Getting leads to open your email is the next step. That means we need to ensure your email doesn't end up in the spam or junk folder. To do this, avoid trigger words such as "free" or "discount" in your subject line. 
Additionally, copywriting experts advise keeping your subject line short and enticing. Inserting the lead's name can also show personalisation and drive attention. 
Step 3 – Make your body text clear and concise 
Clarity is crucial for your email content. Make it easy to understand and avoid jargon, long words, and long sentences. The first two sentences of your email are critical for capturing attention as they tend to be in the email preview. They should thus be memorable and to the point. 
Keeping your email concise is vital as people lack the time for lengthy reads. As such, try to cut out unnecessary points and aim for under 200 words. 
Step 4 – Sign off with a call to action 
After writing the main content, you should include a strong call to action to drive action. Keep it simple with something like "Get in touch" and have a link to a contact.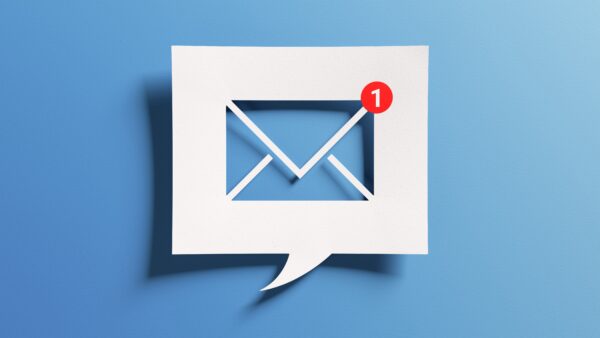 When to Send a Follow Up Email?
It is crucial to send a follow up email at the right time. Here are some key scenarios when you should send these: 
After initial contact – Send a prompt follow up email within 24 hours. It shows professionalism and keeps your brand fresh in your customers' minds. 
After a sales meeting, trial or demo – A follow up email in these cases can recap key points discussed, address any questions or check if your lead needs further information.  
After an unresponsive period – Re-engage with leads that have gone silent by offering valuable content, new incentives, or a gentle reminder about your offerings. 
After a purchase – Send a follow up email to show gratitude and provide post-purchase support. It also offers an excellent opportunity to encourage customers to subscribe to your loyalty programme or newsletter. 
Do's & Don'ts for Follow Up Emails
DOs

A clear purpose and message: This can prevent confusion and drive the recipients to take the desired action. Persistent communication can also help you capture missed opportunities and ensure you provide value.


Personalisation:

Use your prospects' names and refer to specific interactions you have had with them. It makes them feel valued and increases the possibility of a positive response.

Have a Follow-Up Schedule: It is key to maintain consistent communication with your leads without overwhelming them. Set reminders to follow up at appropriate periods so that you can keep the customer conversation going. It helps you keep track of customer statuses.

DON'Ts

Coming on too strong:

Be engaging without being aggressive. Being pushy and making exaggerated claims can reduce the email's effectiveness. 

Inundate people:

Follow up emails should only be sent to qualified leads as it may annoy those who aren't interested. Additionally, don't exhaust leads and avoid sending follow up emails daily if you haven't gotten a response. 
Keep Track of Leads & Drive Sales with Your CRM
Follow up emails are a sales game-changer. Using a customer relationship management (CRM) software like Efficy CRM makes the follow up process more efficient and can enable you to make informed sales decisions. 
This article is originally published by Efficy:
Efficy is a leading European Customer Relationship Management (CRM) solution that offers businesses of all sizes a complete, flexible, customizable, and scalable software platform. With products for marketing automation, sales, project management, customer service, and customer nurturing, Efficy provides a comprehensive solution to support business growth. Currently, the platform is used by over 300,000 users from 60 countries. Headquartered in Brussels and with more than 500 employees working in local offices across Europe and Hong Kong, Efficy's mission is to help companies transform customer data into valuable insights while simplifying their employees' work. Whether on-site or remote, Efficy is committed to contributing to the success of every company.
Apart from utilizing a CRM, start your conversation with potential buyers and suppliers via our e-Marketplace today by clicking below banners: