Healthcare Industry Highlights
The medical and healthcare industry has been blooming in the past two years, with demand for products and services increasing exponentially since the beginning of the COVID-19 pandemic. With export volumes recording an increase of 7.5% in 2021, the increased demand expects to grow as the old age demographic of 65 and above continues to rise.
Leveraging on the unique geographical location and the established infrastructure available in Hong Kong, the city has been progressively encouraging science, research, and businesses in the medical and healthcare field. Fostering the use of technology and innovation, many of the local businesses not only export world-class original equipment manufacturer (OEM) products but also brings the capabilities of producing private labels that are readily available internationally.
Market Composition and Industry Landscape
The medical and healthcare equipment sector in Hong Kong composes of two major market segments, household consumers and professional or healthcare institutions. With the ever-growing demand for medical and healthcare devices, many companies provide OEM products such as blood pressure monitors, massagers, plastic and resin mouldings, and custom engineering design solutions for different consumer groups.
To further benefit from economies of scale and production efficiency, many companies from the city have relocated manufacturing lines to Mainland China to improve their product competitiveness in the market. Business activities such as quality control, engineering, design, and research, remain in Hong Kong.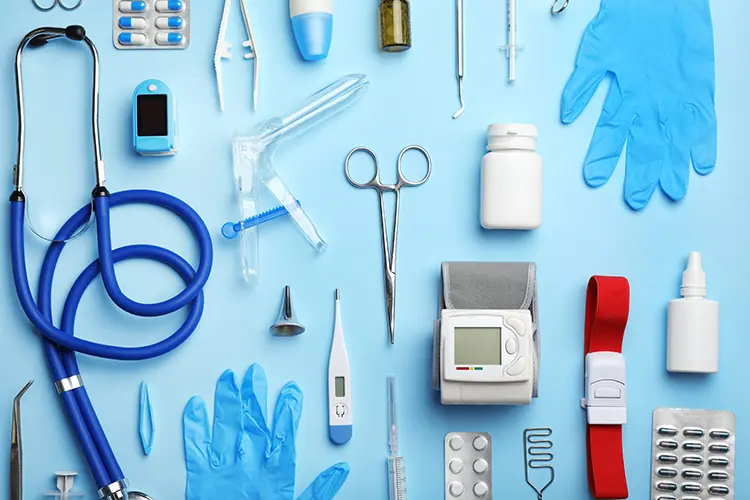 Performance and Outlook of Hong Kong's Medical and Healthcare Equipment Exports
Hong Kong's medical and healthcare equipment total export surged by 7.5% in 2021. The record increase comprised of exports to major markets such as Mainland China, India, and ASEAN countries as demand for electro‑diagnostic apparatus increases.
Manufacturers from the city are highly recognized for their professionalism when managing intellectual property and sensitive technology, as product specifications and designs must adhere strictly to OEM export agreements. In addition, from the increasing involvement in product design, research and development, engineering, and quality control, many manufacturers began offering private-label products through their network of overseas importers and distributors, offering both sales and aftersales services abroad.

Biotechnology and Healthcare Innovations in Parallel
Today, over 250 biotechnology-related companies are operating in Hong Kong involved in pharmaceuticals, traditional Chinese medicine, healthcare products, and medical diagnostic devices. From the support and promotion of technological innovation since 2018, the Hong Kong Science and Technology Park (HKSTP) has avidly fostered innovative biomedical research, development, and commercialization activities.
In 2020-21 the biomedical technology sector grew expansively with the addition of 160 biomedical technology companies and start-up businesses located at the research and development hubs within the Biomedical Technology Cluster (BMT) on the HKSTP campus. Establishing many world-class biomedical companies proves Hong Kong's commitment to becoming a strategic biomedical research base in the region, as the sector contributes to improving people's health through innovation, technologies, and systems.
Other major healthcare innovations include developments in the areas of Telehealth, 3D Printing, Robotics, Virtual Reality (VR), and Biosensors and Trackers.
Showcasing the latest products and services of the industry, the Hong Kong International Medical and Healthcare Fair will be held at the Hong Kong Convention and Exhibition Centre from 9 – 11 November 2022, attracting businesses from around the world and presenting local and global companies with boundless sourcing opportunities. In addition to the fair, the Asia Summit on Global Health will be staged concurrently from 10 – 11 November 2022 for healthcare experts, policymakers, and business leaders around the world to exchange, collaborate and explore future developments for the industry. 
Through its online program, the summit and fair also offer online for participants to partake across different regions and time zones. Global buyers can also access HKTDC's online platforms, hktdc.com Sourcing and Click2Match, to conveniently browse and source product specifications, pricing, and company contacts on demand.