HKTDC Lifestyle fairs were held concurrently from 19-22 April. A total of 545 trade buyers were interviewed to gauge their feedback on business development, understand their sourcing needs, and explore product trends.
1. Sourcing New Products and Identifying New Suppliers are the Main Objectives of Trade Fair Buyers
According to the survey, most buyers visit the trade fairs to source new products (82%), followed by identifying new suppliers (70%).
2. Buyers Express Optimism for Business Prospects in the Short and Medium Term
The majority of buyers anticipate an increase in overall sales. Specifically, 52% of buyers expect sales to increase in the short term, while 72% anticipate an increase in the medium term. These figures indicate that many buyers are feeling optimistic about the future of their business in both the short and medium terms.
3. Buyers Hesitant to Raise Retail Prices Despite Higher Sourcing Costs
Around 60% of buyers expressed that sourcing costs have increased compared to last year. However, less than 50% said they have increased their retail price to the end consumer. Buyers and retailers tend to be conservative in raising retail prices, and they have to absorb some of the increased cost of sourcing.
4. Increasing Product Variety and Engaging more Suppliers
Close to two-third of buyers shared that they have sourced more product variety, and this is in line with 56% of buyers engaging more suppliers. These trends may be due to the increase in sourcing costs, and buyers are trying to mitigate this increase in operating costs.
5. Hybrid Sourcing Channels are Preferred Method for Majority of Buyers
Regarding sourcing preference between online and physical channels, the majority of buyers prefer a hybrid approach to sourcing, utilizing both physical exhibitions and online platforms. In fact, nearly 80% of buyers used online channels for sourcing in the last year. This indicates a strong preference for the convenience and accessibility of online channels, while still valuing the benefits of in-person exhibitions.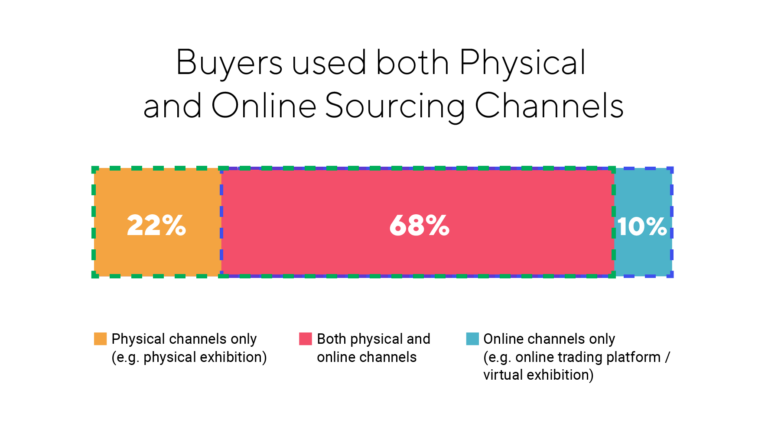 6. Hong Kong and Mainland China are Leading Physical Trade Fair Destinations
According to the survey, Hong Kong and Mainland China are the top physical trade fair destinations for most buyers, counting 86% and 55% respectively. As one of the major international trade hubs, Hong Kong continues to be a popular destination for buyers due to its convenient location, world-class facilities, and reputation for hosting top-quality trade fairs.
With its diverse and dynamic trade landscape, Hong Kong and Mainland China remain the top choices for buyers seeking to stay ahead of the curve and tap into new opportunities in the global marketplace.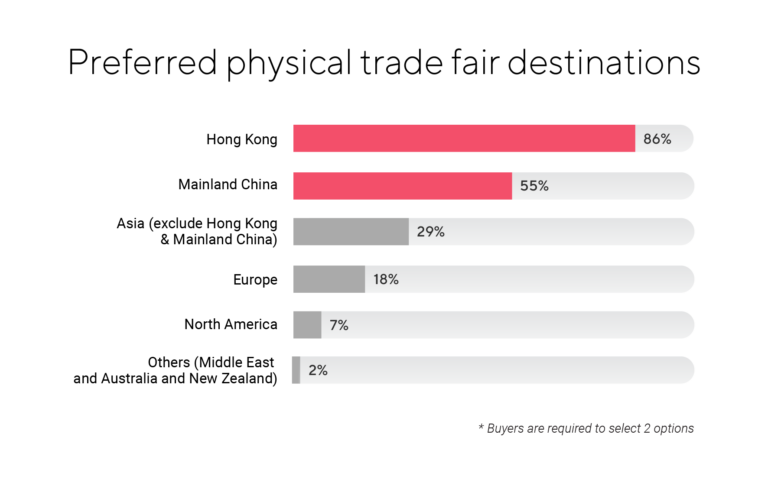 7. Sustainable and Tech Gifts Show Strong Growth Potential
According to buyers' predictions, the year 2023 holds promising growth potential for several types of products. Sustainable Gifts, Tech Gifts, and Advertising Gifts & Premium are expected to lead the way, with equal ratings of 34%, 34%, and 33%, respectively. These product types are likely to appeal to buyers who are looking for innovative, eco-friendly, and tech-savvy gift options.
When examining trends in the gift and premium market for 2023, it is clear that certain features are highly sought after by buyers. Two-thirds of buyers rated "Green and environmentally friendly" as the top trending feature in gifts and premium market for 2023, followed by "Chic and fashionable" products.
8. Furniture and Household Product Trends for Health, Eco-Friendliness, and Simplicity
9. Fashion Accessories and Fashion Technology Products Lead the Way
According to buyers, Fashion Accessories (56%) have the greatest growth potential among the Fashion segment this year, followed by Fashion Technology products (42%).
When it comes to product element style, Trendy Design (60%) is the most popular choice for Fashion items, followed by Simple Design (45%) and Green/Sustainable elements (33%). Buyers believe that products with these features are more easily to attract customers.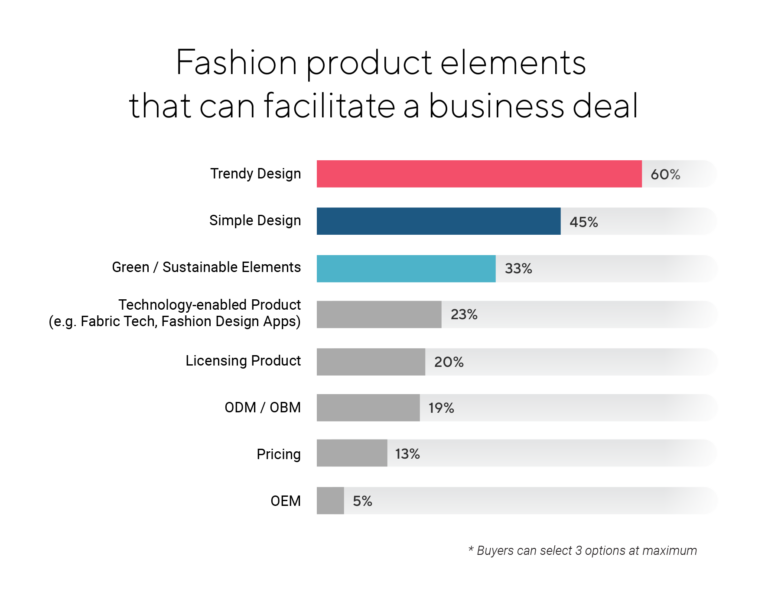 The survey conducted during the Hong Kong Gifts & Premium Fair, Home InStyle, the Hong Kong International Home Textile and Furnishings Fair, Fashion InStyle, the Hong Kong International Printing & Packaging fair as well as the Hong Kong International Licensing Show in 2023 showed that buyers are optimistic about the growth potential of various product categories such as Sustainable Gifts, Tech Gifts, and Advertising Gifts. In addition, the trend this year is towards Green and environmental friendly products, chic and fashionable style products, and products with simple designs. Buyers' sourcing behaviour shows a preference for hybrid sourcing channels, a combination of physical exhibitions and online platforms. Hong Kong and Mainland China are the preferred trade fair destinations to visit.
With your peers showing strong interest in online sourcing, catch up the trend by searching lifestyle products on our e-Marketplace today! Visit us by clicking below banner:
Contact us for more business promotion opportunities: