A comprehensive survey was conducted among international buyers at the Hong Kong Toys & Games Fair, Hong Kong Baby Products Fair, and Hong Kong International Stationery and School Supplies Fair in 2023. The survey aimed to gather insights into the latest sourcing behaviour and preferences of the buyers. Over 600 buyers participated in the on-site survey, and an additional 30 buyers were interviewed in-depth to gather market insights. The survey provides valuable information for industry professionals to stay updated on the latest product trends and buyer behaviour.
Majority of the buyers surveyed were overseas visitors, with 60% traveling to the fairs for sourcing purposes. The survey results showed that 72% of buyers were searching for new products and 58% were looking to identify new suppliers, highlighting their focus on exploring growth opportunities. Additionally, 20% of buyers used the fairs to meet with existing suppliers, while 22% sought competitively priced products and 25% gathered market intelligence and observed product trends.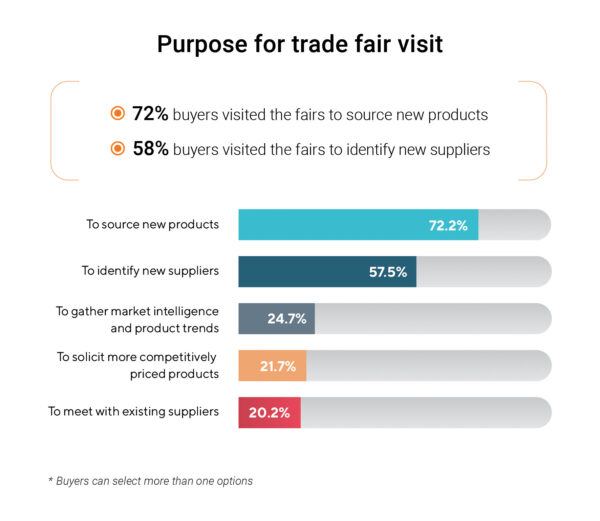 Physical Trade Fairs and Online Platforms are Preferred Sourcing Channels
The majority of buyers sourced from existing suppliers in the past 6 months, with 45% also utilizing online channels such as online trading platforms and virtual trade shows. Of these online buyers, 79% attended virtual and hybrid trade shows. While online sourcing plays a key role in the market, 41% of buyers still preferred physical trade fairs for supplier meetings.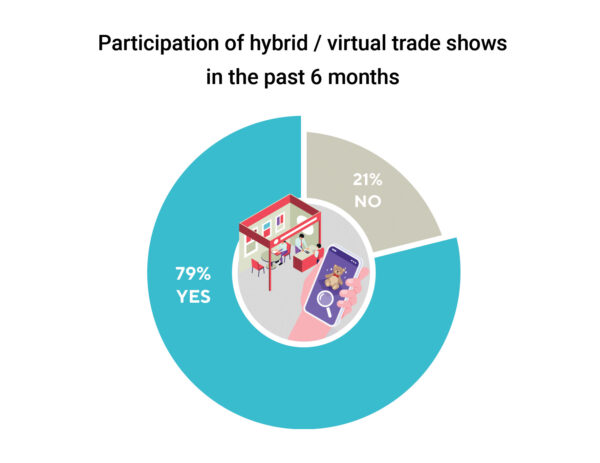 In the coming 6 months, buyer preferences are shifting towards visiting more physical trade fairs as travel restrictions ease and the global exhibition industry recovers. An upward trend in the number of buyers attending trade shows worldwide is expected in the near future.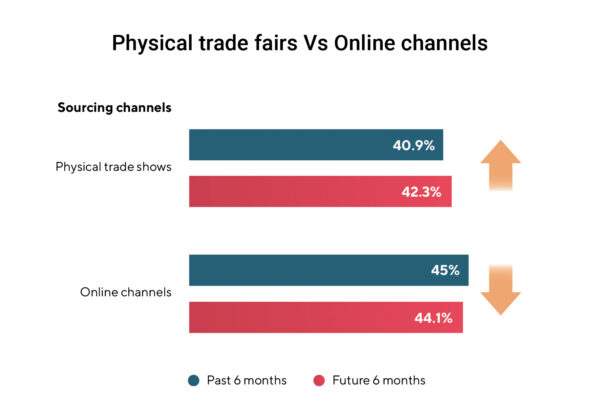 Hong Kong and Mainland China are the Top Two Preferred Physical Trade Fair Destinations
International buyers chose physical trade fairs in Hong Kong and Mainland China as their top two preferred destinations as buyers appreciate meeting their suppliers and partnered manufacturers at the same region. This aligns with the sentiment expressed in the previous survey conducted in Q4 2022.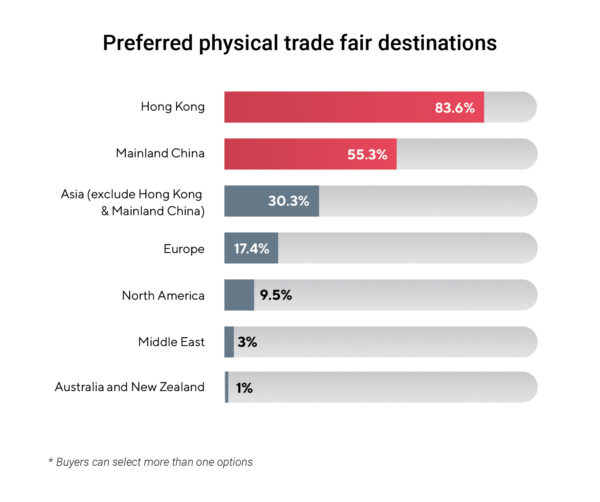 Online Sourcing for New Products and New Suppliers
87% buyers sourced new products while 62% buyers identified new suppliers as the main objectives for using online sourcing platform. On average, buyers rated their online sourcing experience as 7.3 out of 10, indicating that buyers are generally satisfied with online sourcing.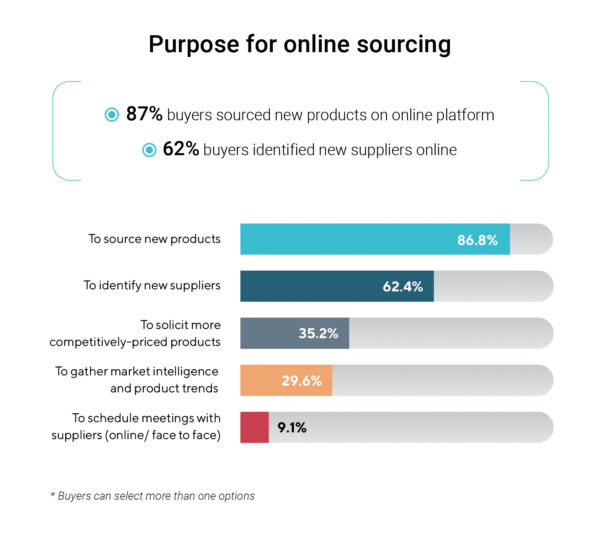 Buyer Insights from Qualitative Interviews
Prioritizing Quality and Safety in Toys and Baby Products Sourcing
Product Quality and Safety is the top priority sourcing criteria for toys and baby products buyers. Manufacturers from Mainland China are preferred for better product quality compared to other Asian countries with the considerations such as infrastructure, logistics, operational experience and labour skillset, but other countries have a competitive edge with lower production costs.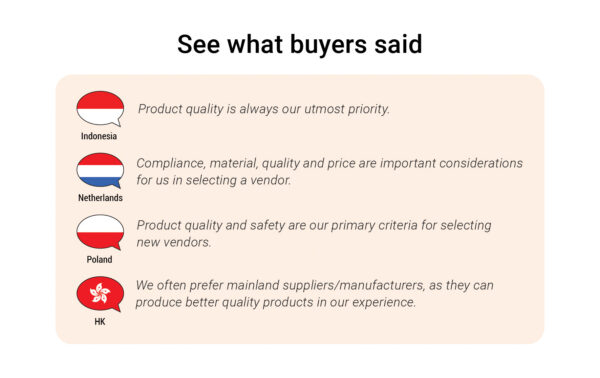 Enhancing Sourcing Efficiency with a Blend of Online and Physical Trade Fairs: From Product Research to Vendor Meetings
Buyers showed a preference for physically examining products and meeting vendors face-to-face at trade fairs. However, online sourcing also aids the process by allowing for effective sourcing and preliminary research, including vendor and product screening before visiting a trade fair.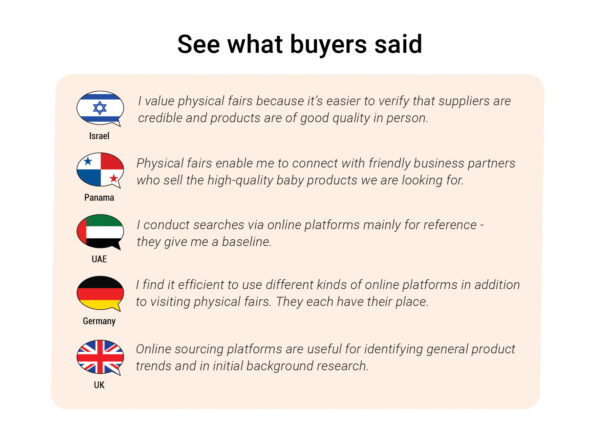 The pandemic and its travel restrictions had a limited impact on toy & game and baby product buyers' sourcing activities. Most were able to continue working with existing suppliers or representative offices in Mainland China, but faced high logistics costs. Despite the pandemic, buyers reported a relatively stable demand for toys and games as people stayed home.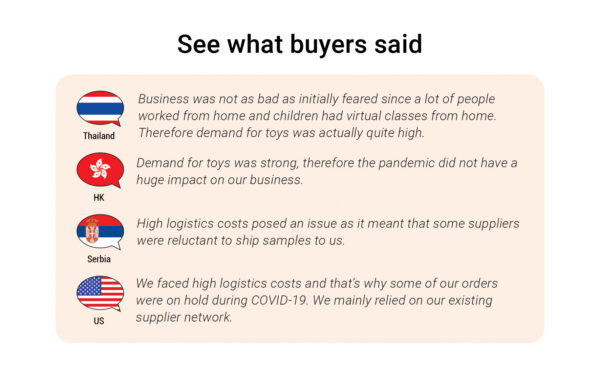 Upcoming Trends in Toys, Baby Products and Stationery
Aside from discussing sourcing criteria and the impact of the pandemic on business, industry buyers and practitioners were asked to share their insights on the next trends for toys, baby products and stationery.
Toys: STEAM toys, educational toys, electronics toys and building block
Toys that promote brain development in children, such as STEAM toys, educational toys, electronic toys, and building block were rated as the most popular products.
According to a recent report1, the toys and games market is expected to grow with a greater awareness of the effectiveness of toys in fostering children's development. In particular, interactive toys that help children develop skills in science, technology, engineering, arts, and mathematics (STEAM) are in high demand. Emerging economies are projected to see increased spending on educational toys and games, especially in dual-income households.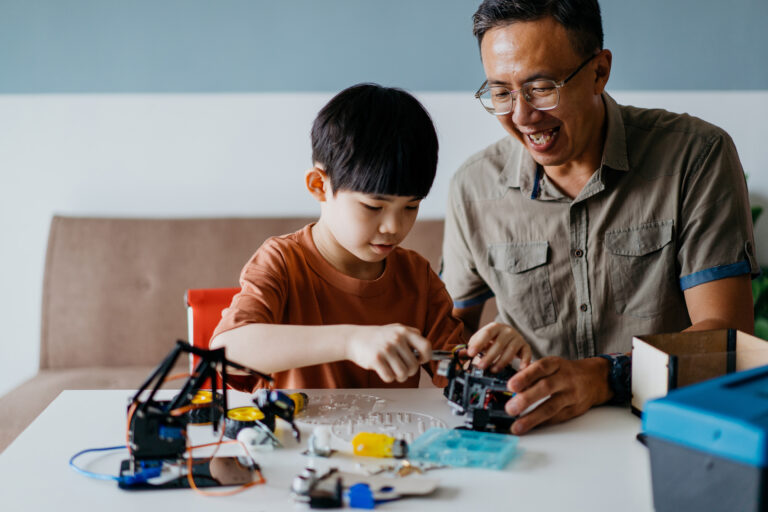 Baby: Baby strollers, high chairs, cribs, and car seats
Due to inflation and supply chain difficulties affecting prices and supply, parents are increasingly considering generic alternatives over brand products when shopping for essential items2. Product designs with ease of use and convenience, such as rotating car seats for easier installation and convertible high chairs with stylish designs, are expected to become more popular choices.
Stationery: Eco-friendly and sustainable stationery products
Eco-friendly stationery products, such as recycled paper notebooks and biodegradable pens, are becoming more popular due to consumer concerns about the environment and advancements in cost-effective, environmentally responsible manufacturing processes3. Companies are investing in the development of products that are recyclable, plastic-free, and compostable to meet future market demands.
Industry experts also shared their insights and predictions on product trends. Buyers have a positive outlook for the future of their businesses.
Streamlining the Sourcing Experience with the Integration of Online and Physical Trade Fairs
International buyers value the combination of online sourcing and physical trade fairs for their complementary roles in enhancing the sourcing experience. Online sourcing offers the convenience and flexibility of sourcing from anywhere, at any time. On the other hand, physical trade fairs provide valuable opportunities for buyers to physically examine products, establish new business relationships, and meet with existing partners, all under one roof. By leveraging online tools to pre-screen vendors and products, buyers can optimize their trip planning and make the most of their time at the trade fair. The integration of the best qualities of both online and physical trade fairs provides an ideal approach to sourcing for international buyers across industries.
As a start, you may want to visit hktdc.com Sourcing and browse through the many different toys & games, baby products and stationery, or by clicking through below banner:

Appendix: Survey Demographics
Subscribe to NewsBites and stay updated on the latest business trends and news.