Are paid social on Instagram indeed useful? The more IG followers, the better? How about adding a chunk of hashtags, will that help? For SMEs with limited resources, it is a must to master the latest trends and algorithms of IG, and create contents in the latest format, or else losing out business opportunities! 
In July's Digital Academy webinar, Rem Chiu, Co-founder of digital marketing company MORE Digital, shared the latest development of Hong Kong social media and introduced the IG algorithm updates in 2023, marketing strategy and common errors, as well as the future trends. 
Instagram Algorithms & Tips
Rem talked about the 3 key Instagram posts, namely Feed, Stories and Reels, and their algorithms. According to Instagram's official statements, Instagram will distribute contents with reference to the length of staying time on posts and the number of profile hits, on top of the well-known Comment, Like and Share.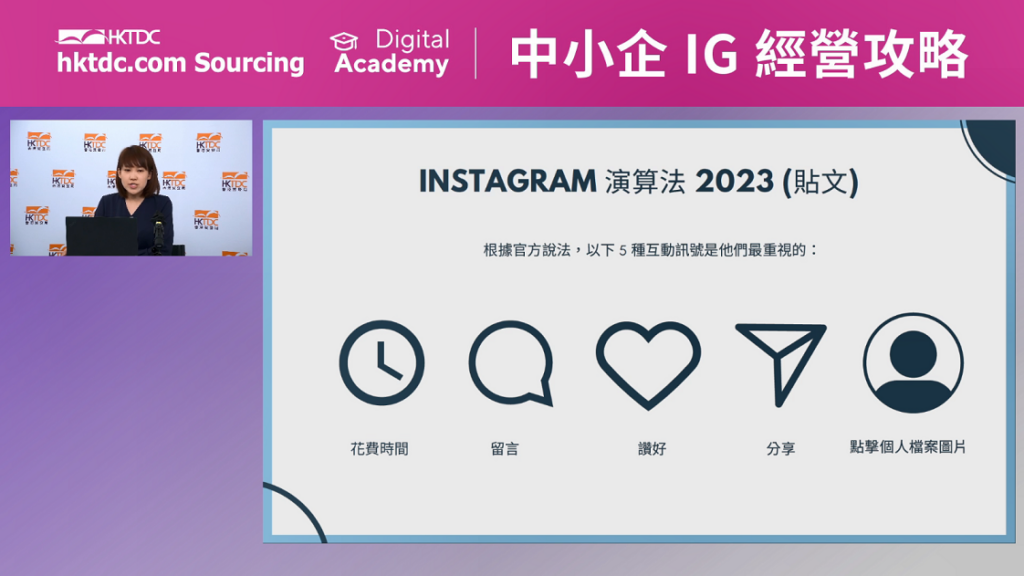 Based on these parameters, Rem gave the following recommendations: First, creating good content is the most fundamental which can value-add to your users, inducing them to interact, click your page to learn more. Next is to draw users' comments, which can be done by leaving your own first comment, or explicitly asking your users to comment, like, share and save your posts.
In addition, since staying time is an important parameter, using multiple images (known as "Carousel post") can be very effective as users need to spend more time to finish reading the posts. Even if the user left after viewing the first image of a particular carousel post, Instagram will still allocate the other images of the same post to that same user to draw his/her attention and viewership again.
Read More:
Instagram Algorithm 2023: Prioritising Posts or Stories?
A True Story Sharing of Growing Instagram Followers from 300 to 18k+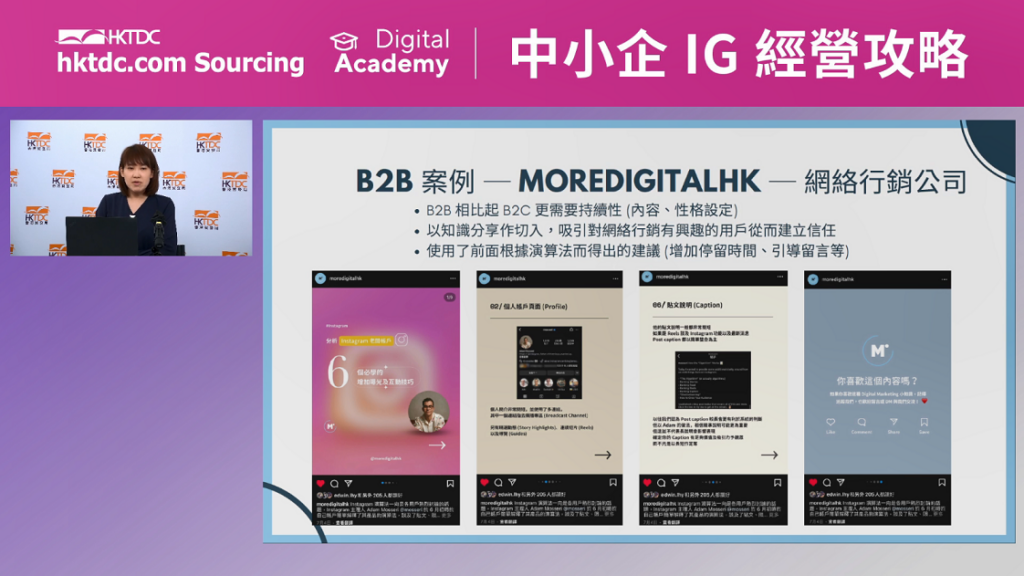 In terms of B2B social media management, Rem suggests building trust with your B2B clients/customers by sharing digital marketing knowledge/updates with potential clients, as B2B customers take longer consideration time to make business decisions than B2C ones.
Read More:
Watch the Webinar Recording Now (In Cantonese):​
Upcoming Seminar on August 24!
Want an interactive experience and exchange ideas with digital marketing specialists and your peers? Mark your calendar for the next Digital Academy's seminar: LinkedIn Director Presents: A Strategic Guide to SME Online Promotion (in Cantonese only) happening on August 24, where LinkedIn Marketing Solutions Enterprise Account Director, Joyce Wu will talk about how to seek business opportunities on LinkedIn and increase online exposure! Register now by clicking below image:
Disclaimer
This website may contain material sent to the HKTDC by third parties. Without prejudice to any rights, remedies and interests that HKTDC may have, HKTDC is not responsible for any error, omission or inaccuracy in the material. HKTDC reserves the right to omit, suspend or edit any material submitted. The opinions, findings, conclusions and recommendations expressed in such material are those of the authors thereof, and do not necessarily reflect the views of HKTDC.