Trending Products to Sell in 2021
In our previous article, we have shared with you how to find trending products with the help of Google Trends. By maneuvering big data gathered by Google's search engine, we identify trends and ensure we are investing in the right products for the best returns in the e-commerce business.
Now, in case you find that still too long to read, or that you simply cannot wait to jump straight into starting your online business, here we have a list of best-selling products, all available straight from hktdc.com Sourcing. Each product's trend below is backed by data from Google Trends, product speciality, and its niche that will help you stand out among vast competitors.
In Think With Google's 2020 Reports, keyword searches once again show us that not only top trending products are in high demand, even search volumes for "side gig" and "passive income" have gained exponential growth during the year of lockdown. If you are thinking about starting an online store, chances are your friend and ex-colleague are probably thinking about it, too.
With such keen competition, how do you stand a chance to break into the ecommerce scene?
There are three key ingredients in the formula to ecommerce success: in-demand trending products to sell, marketing skills, and ambition.
You are here because you have the latter ingredient —constantly learning, upgrading yourself, and keeping abreast with the trends. But finding niche products to sell is no easy task. Which is why we are here to provide you with this cheat sheet for new trending product ideas.
Based on the pro tips we have shared, you already know why, how and where to find top trending products with the help of Google Trends. But we went beyond and did the research for you in advance.
With this list, we reveal the best trending products to sell in 2021. Whether you are about to launch a new ecommerce store, or here to find a great product to add to your existing store, surely you can find some product ideas from our list. 
However, given each trending product targets a specific audience, we recommend considering niche-specific products to reach your new potential customers.
The following products have made into the top trending product categories on Shopify from July to December 2020.
Top trending products to sell in 2021
If you are looking for product inspiration, you are in the right place. Explore our list of top trending products in 2021 – surely this will be your safest bet to start your online business.
Read more: 7 Products That Chinese Consumers Are Buying More As They Cannot Go Out
1. Yoga Mat
At-home exercise has been growing in popularity since the unprecedented times of 2020. This ancient science-backed sport is a form of holistic therapy – surely modern city-dwellers are craving its benefits.
Notice how yoga mats' search volume spiked last year:
Even KWFinder picked up on this trend: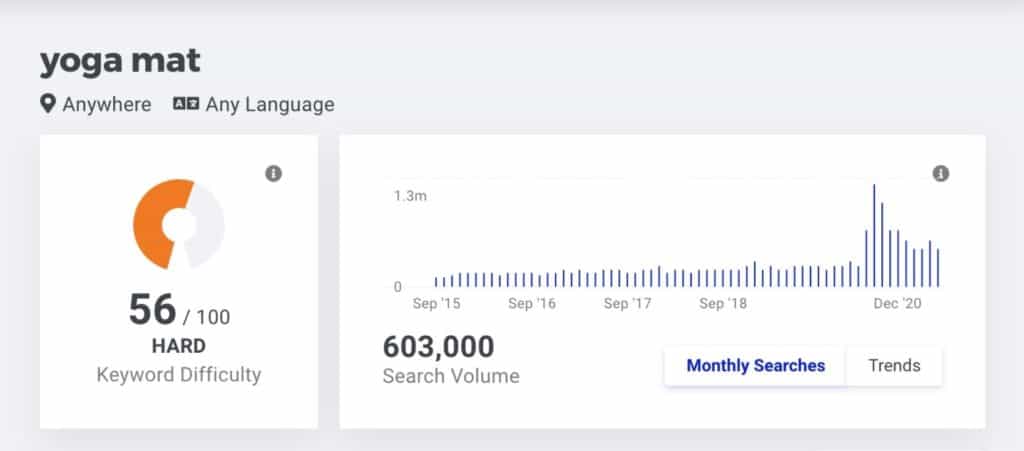 While we are amidst an exhausting period, it is crucial to focus on our well-being. Over recent years, the hard times have proven that there is undeniably a rising awareness of health benefits from yoga and meditation.  
Yoga carries the benefit of relaxation and boosts our mental & physical energy. Yoga is also beneficial as it helps manage stress and connects us to better self-care. Yoga mats make a great product for at-home yoga sessions, along with the convenience of being able to practice under the comforts of our home.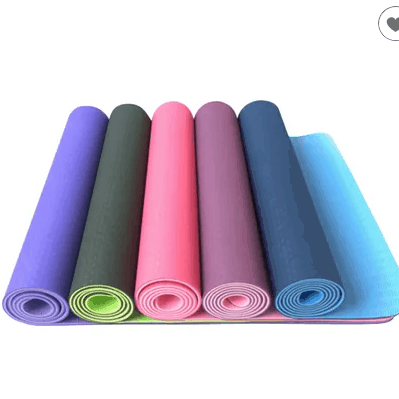 Surely shoppers would search for safety and comfort through all movements with a reliable and all-round mat. With a stable and supportive TPE construction, an anti-slip yoga mat provides excellent traction and a perfect grip so users can focus on their holds and flows without worrying about slipping.
For a niche trending product in 2021, consider yoga mats with a reversible design; the heavy-duty and versatility helps support enthusiasts and newcomers alike. Having durable yet lightweight exercise yoga mats provide extra thick support, along with additional cushioning to your joints during any yoga or fitness routine.
Most importantly, it is well-designed to be placed and ready for use under the comforts of your own home. All it takes to start is rolling out and rolling it back up once you finish.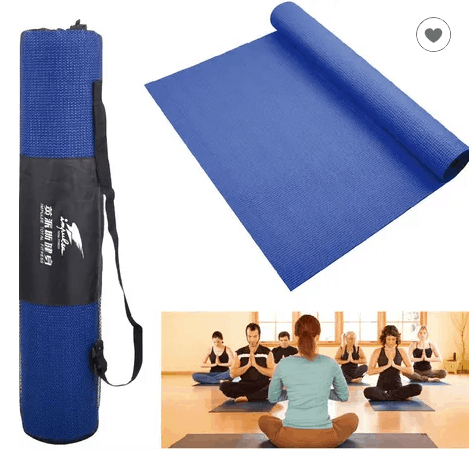 While yoga mat is a trending product for indoors workout, it does not stay exclusive to the comforts of your own home. Yoga also includes the benefit of an outdoors experience while connecting with a community. Gatherings of local communities for yoga amplifies the sense of safety and trust between one another.
Yoga mats can come with storage bags. This provides an extra niche to fulfil that experience of venturing outdoors, possibly with nature. It is also convenient to transport the yoga mat when heading for different places – between yoga studios, community gatherings or outdoor yoga. 
Individual yoga mats are quite heavy for transport, while options that provide portability can make it easy to carry around – eliminating the worries of being a hindrance on weight. Lightweight options with portable designs are definitely growing in popularity.
Customized Logo Printed Suede And Rubber Yoga Mat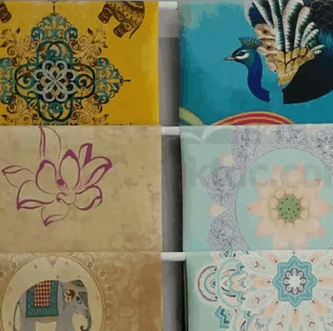 While yoga mats are abundant and readily available in the market, the texture is one of the essential factors that shoppers consider when buying a yoga mat. Suede yoga mats stand out from regular yoga mats, making a great niche product.
Suede material offers a soft, smooth and light-weight experience that can feel good for many people. Not only that, but suede materials can handle sweaty practices. Don't worry about slipping, as suede yoga mats provide a great grip, making it a great trending product to sell in 2021.
2. Exercise Bands 
With the growing trend of maintaining our health indoors or under our own home's comforts, exercise bands are another recent trending item. Numbers also show it is growing in popularity: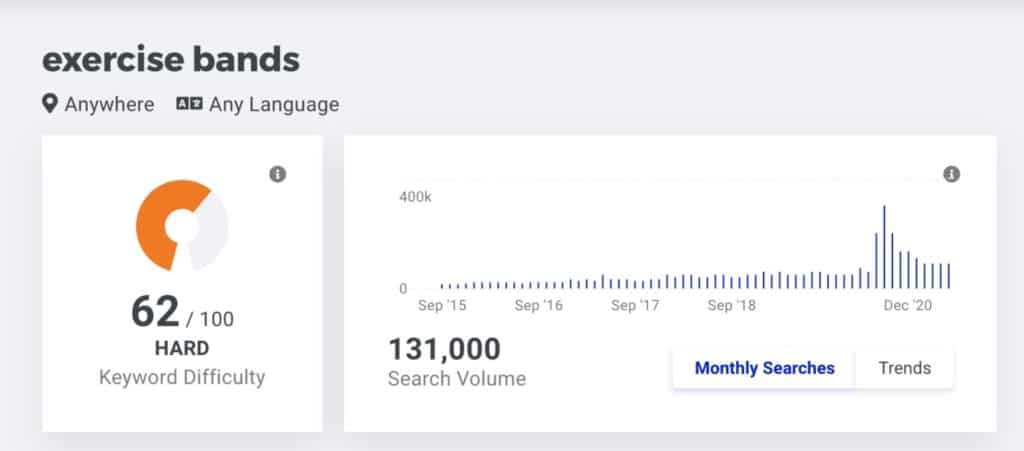 Exercise bands are all about intensive physical activities, ranging from fat-burning exercise to constant muscular pump. 
Exercise bands are lightweight, versatile, and easy to stow in a gym bag or carry-on. It makes them an ideal choice for anyone who wants to train anywhere at any time. You can use exercise bands on their own or add them to more standard exercises that can vary your resistance towards a more diverse workout. This diverse offering makes them a trending product to sell in recent years.
[Handy-Age]-Body Stretch Resistance Bands (OS2304-032)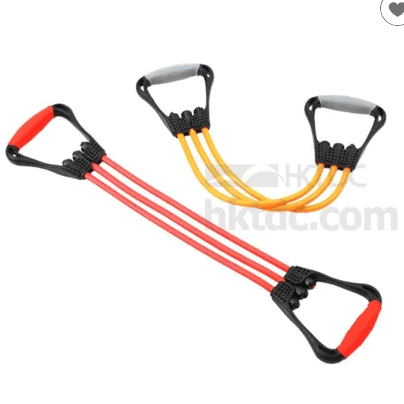 Having a handy body stretch resistance band with a unique ergonomic design helps provide comfort and through easily-adjustable tube lengths. Certain body-stretch resistance bands that consist of 3 rubber designs helps broaden the variety of exercises during anyone's workout.
For an exercise band, having one for body stretch resistance is excellent for home-based strength training and is ideal for yoga and fitness classes. Not to mention, they are perfect for trimming your whole body muscle as it includes excellent versatility. The variety of these bands can strengthen, tone, shape, and rehab your muscles.
Mini Loop Resistance Bands Set of Four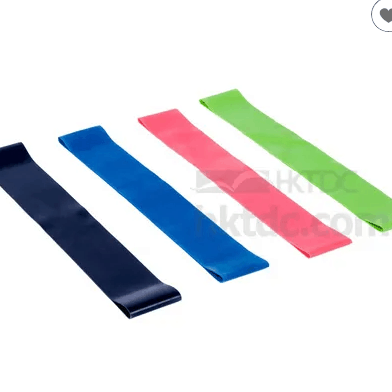 They are one of the well-known material types for exercise bands with latex materials to facilitate your resistance training. An elastic band such as latex provides flexibility, designed to improve sports performance, elevate fitness and increase strength. These heavy-duty bands add tension to joint exercises or even assistive pull-ups and clips. 
Resistance bands are very convenient due to their portability. It can help strengthen torn ligaments or muscles in places like the clinic, the gym, at home, or even on-the-go. This convenience makes it a trending product in 2021. 
Gym Exercise Fitness Fabric 3pcs Non-Slip Hip Resistance Bands Hip Booty
Resistance bands are very convenient due to their portability. It can help strengthen torn ligaments or muscles in places like the clinic, the gym, home, or even on-the-go. 
These lighter and comfortable stretch resistance band loops set for everyone could become your favourite leg exercise accessory. Featuring a three tension level to support targeted lower body warm-ups, you can gradually increase the resistance to fit your needs. 
It supports a healthy hip function, and it is also an excellent warm-up tool before any exercise. Just like other exercise bands, this is also considered a versatile tool due to its availability to perform high-intensity functional training, strength training, cardio workouts and so-on forth. 
They serve as the perfect option for adding resistance when travelling since they take up very little space in the suitcase. Not to mention the fact that these exercise bands are also home-friendly!
3. Jigsaw Puzzles 
For a long time, jigsaw puzzles have been a popular pastime activity for centuries. They're known to be a great way to relieve stress and create something beautiful.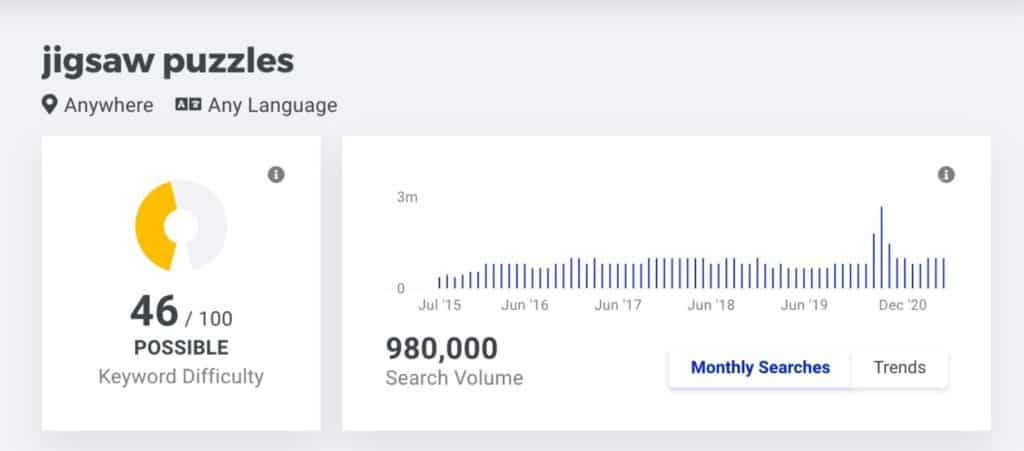 Jigsaw puzzles are undeniably a growing trend since 2020, and one global research suggests that they will face massive growth with about 15% by 2025. With high search volume over the recent year, we can see jigsaw puzzles to carry a steady trend in the future. 
Jigsaw puzzles can assist cognitive behaviours in the form of a hobby or play-time for people across any age. Parents today prefer to give their kids toys that are fun and valuable in knowledge and innovation. Recent innovations show that companies and artists are exploring new and fun ways to reimagine the jigsaw puzzle.  
Puzzle Board (Wood Intelligence)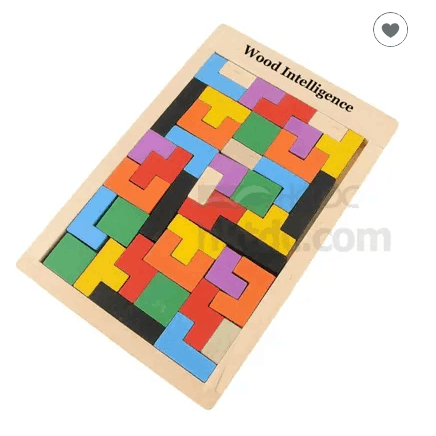 The wood intelligence puzzle board is a unique jigsaw puzzle that requires a level of pattern recognition, colour recognition and problem-solving skills. While it comes in 40 assorted mysterious pieces, this helps stimulate a child's sensory development towards color and shape. 
It's a great distraction for children to spend their time on. Under the current situation of online classes, this would encourage them to lessen their screen time during break times – also making it a trending product in 2021. 
While coated in non-toxic paints for anyone's peace of mind (especially for parents), they also contain high-quality timber. It makes the wooden intelligence puzzle last for years to come, being an excellent investment in the cognitive department.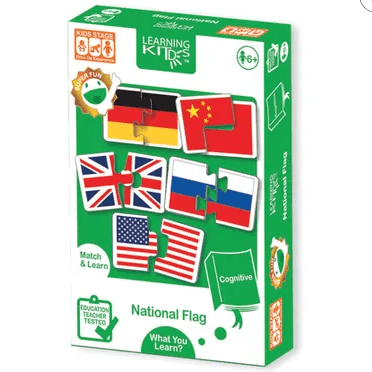 The national flag jigsaw puzzle is a fun, colour-matching game that helps educate children globally. Recognising each country flags of different and diverse patterns also induces a great understanding of the world for younger kids. 
Children need to build their fundamentals on global knowledge at an early age. The current age we live in helps them catch up with the rapid globalisation we all face today. Hence, it is essential to provide them with a significant head-start at this level of pacing, where they can have fun while learning at the same time. 
When the puzzle is complete, kids can test their observation skills to find whether they are all well-connected. The storage box shows a completed version for some of these puzzles, and its compact size helps easily store the puzzles without taking up too much space.
Cartoon Animal Puzzle Toy Set Paper 100pcs Jigsaw Puzzle for Kids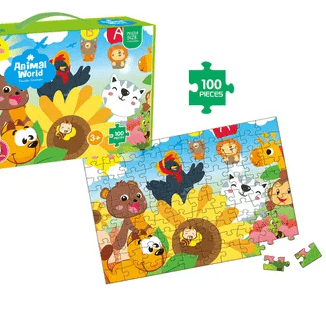 An incredible level for advancers, the 100pcs jigsaw puzzle can be challenging for children to assemble while giving them the confidence to be ready for more advanced puzzles. With colourful eco-friendly packaging, they are guaranteed safe for both the children and the environment. 
With 100pcs in handbag storage of great value and keeping things fresh, the challenge helps youngsters exercise their minds. This puzzle involves a series of developing cognitive, fine motor, coordination and problem-solving abilities. Children playing with this also eliminates their time on computers, smartphones or tablets. 
4. Board Game 
Board games, similar to jigsaw puzzles, are also another growing trend in recent years. This evergreen, all-time public favorite is always in demand: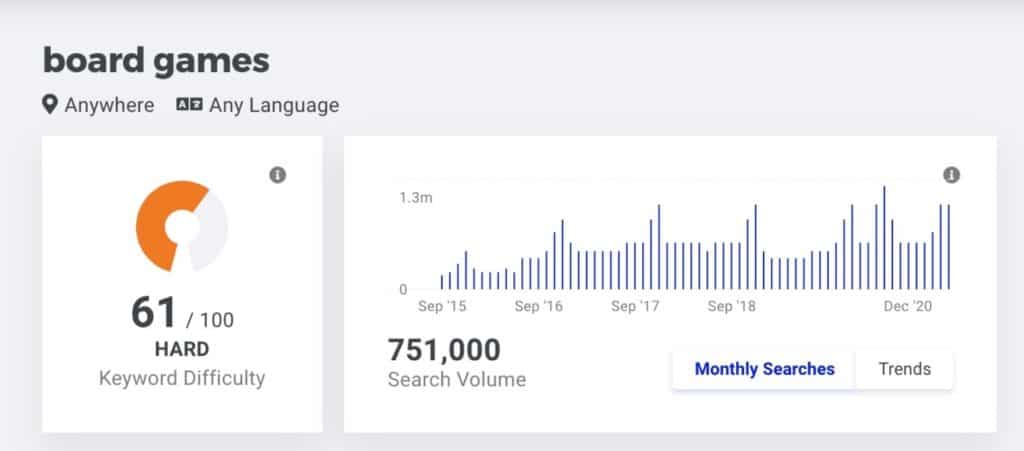 For a long time, the board game market has innovators stepping forward to develop niche products for their target audience. 
Board games are an easy way to get families together to laugh, relieve stress and lower screen time. The benefits for mental health bear its generous capacity and help anyone across all ages. 
Just like jigsaw puzzles, board games carry the benefit for child development. Playing board games can help children develop their logic and reasoning skills by taking up challenges requiring some problem-solving skills. The ability to concentrate and focus for a more extended period is also encouraged and developed on the side, inducing growth in the child's mind. The growing demand for board games makes it a trending product in 2021.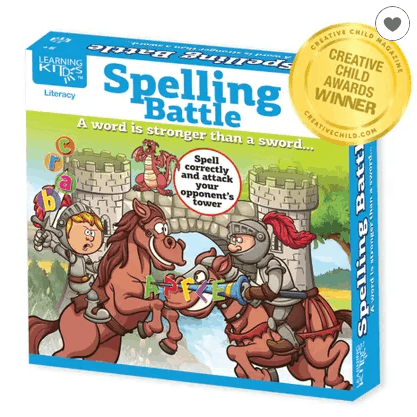 As the Creative Child Awards winner, a challenging board game that involves a fantasy setting plus creativity engaged to the next level. The fun with dragons and knights revolve around that one main element, which is to help stimulate language and spelling skills in a competitive environment. 
Through a co-operative game such as Spelling Battle, it also teaches the value of teamwork. This game encourages playing with your family & friends and is also an excellent opportunity to learn to take turns, share and help each other.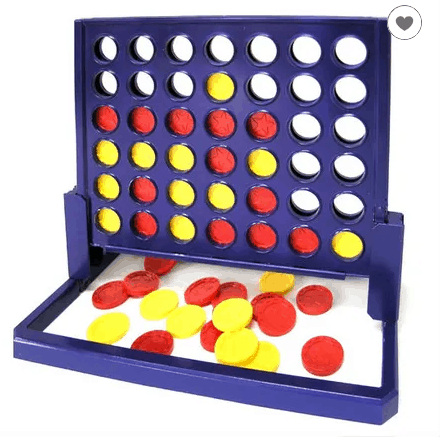 Connect Four is a classic disc dropping fun game based on the colour rules between yellow and red. This game carries a strategic approach to taking turns and planning each movement rapidly and directly. 
The game only requires 2-players. It consists of taking alternate turns dropping one of their respective disc colours into any unified column. Then, anyone who manages to achieve a diagonal four in a row wins the game. 
This simple yet accessible game is for anyone of all ages. While it is popular among younger age groups, this game remains entertaining as it always was due to its straightforward nature and down-to-earth rules. It's a great stress relief for anyone who would instead enjoy a game without the worries of complications.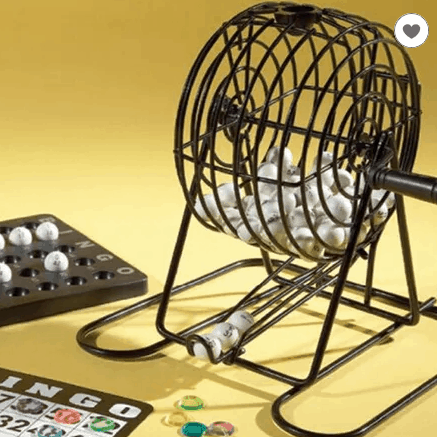 Bingo is another classic board game, one of its kind that everyone across all ages would still play to this day. Accessible for everyone with easy-to-read texts on the game cards and straightforward rules. Rolling for each ball is the fun element of this game, as it heavily relies on chance and randomness. 
As a classic and fun party game, Bingo is one of those board games with high replay value. It means that you can be going through hours and hours of different Bingo rounds every time! Overall, the most important fun and satisfaction of it all is when you manage to score a win and yell, "BINGO" right across the room. 
The examples above have proven that trends have much to do with our interest, curiosity and collective change of habitual shifts. These factors serve as great pointers for us to draw product inspiration. While 2020 may have been an exceptionally challenging year, our change in behaviors can still bring rise to new opportunities and businesses. 
We hope the promising products can provide you with optimistic projections for the year ahead!