Online stores are growing in popularity more than ever before. With e-commerce stores' growing dominance in the retail space and toppled with lockdowns during the pandemic, consumers are fully embracing online shopping with no sign of ceasing. Trending products in 2021 like yoga mats and exercise bands can easily become an internet sensation overnight.  
But the million-dollar question is, how to find top trending products to sell online, and turn them into your niche products with promising returns?
In this article, we will walk you through how to find trending products to sell with the help of Google Trends and Mangools KWFinder. If you have been running an e-commerce store for a long time and still have yet been able to crack the growing trend, now is the time and the golden opportunity.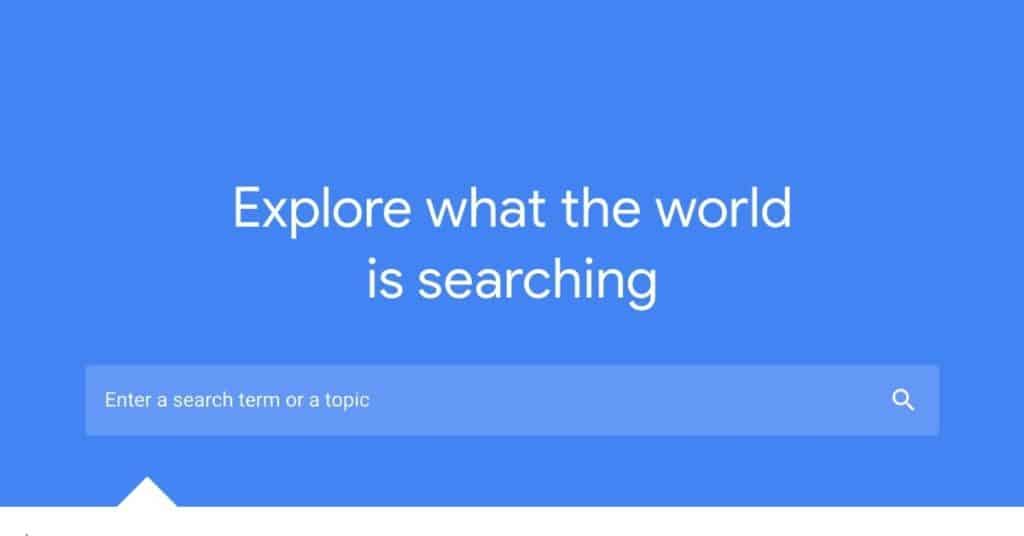 What is Google Trends?
Google Trends search trends feature that shows how frequently a given search term is entered into Google's search engine relative to the site's total search volume over a given period of time. With the tool, you can observe whether a trend is on the rise or declining. You can also filter the data according to demographic insights, related topics, and related queries to help you better understand Google trends.
Why use Google Trends to find trending products to sell?
Nothing really beats Google Trends when it comes to pulling data from the most used search engine worldwide. Those of us in e-commerce and dropshipping would agree that this lifesaver can help us identify growing trends and the seasonal trends of certain products – or your niche. You can even use it to edge out competitors by monitoring their positions. Given how handy and easy to customize it is, you can monitor everything from YouTube stats to the Google Trends compare feature. But most importantly, you can optimize such data insights and use Google Trends to maximize your online store business. 
How to find trending products to sell
1. Using Google Trends to Find Niche Products
Google Trends is the go-to tool to uncover trending products. To look for a new niche product, make sure you extend your range from the default "Past 12 months" to "2004-present." This filter would help see clearly whether the search volume is increasing or declining. Moreover, this would reveal whether there are any seasonal changes in the trending product's market demand.
Let's take "hot airbrush" as an example of a trending product in 2021: 
It is apparent that this trending product was growing in popularity over the past several months. Since September, the product's search volume has been picking up with a sudden peak, followed by a slight dip in May. However, that doesn't mean it's impossible to capitalize on sales for your e-commerce store. This trending product requires more time to be monitored.
Now let's compare this with another example – this time we have a stable niche in Google Trends: "monthly planner".
Contrastingly, this graph has more slight drops over the years. However, the search volume for this niche is reasonably persistent. Here we can see some small dips or increases, which is perfectly normal given the course of time. But it is safe to say that Google Trends shows that monthly planner is a pretty stable niche. So what do the dips and increases mean? 
Such fluctuations indicate the seasonal trends of the searches. We can see the search volume rise in October through December and recline from January on. Just because the search volume in January is relatively low does not mean you cannot start selling monthly planners in January, but expect a lower amount of website traffic at that time of year due to seasonal changes.
In case you are looking for an ultimate example of a short-lived, shot-through-the-roof skyrocket on Google Trends, search "bird feeder":
Searches for "bird feeder" have always been relatively low until March 2020. Shortly after three months, this niche product reached its peak. Evidently, the sudden interest in the trendy toy was acute and drastic in those first few months. But its sharp plunge since June 2020 proves that the trend has faded out, meaning this is no longer a good niche to consider starting investing in.
2. Find Relevant Product Categories in Related Topics
Now that you have found your niche, you might consider expanding your inventory by expanding into other verticals – you want to find other product categories that your target audience and online store shoppers may also want to buy. How do you do that with Google Trends?
Let's say your e-commerce store mainly sells baby swings. As you search "baby swing" on Google Trends, scroll down to the bottom for "Related topics":
While "baby jumper" may seem to have little to do with a baby swing, it could potentially make a complementary product category in your e-commerce store. This data shows that someone who searches for baby swings may also have an interest in baby jumpers. Using the Related Topics feature on Google Trends, you can find great leads to expand your online store inventory and product collection. 
However, some topics that show up on this list may not be suitable for your business as a product choice. Continuing with this example, "sleep" is one of the Google Trends related topics for baby swings. Obviously, sleep is not a product to sell, but maybe a blog post about helping babies sleep better could draw interest.
3. Using Google Trends for Keyword Research
For a change of example, let's take the case of "women's blouses". On Google Trends, the search volume for "men's jeans" is trending upward, suggesting this could make a great product. 
But the key here is to find out the keywords to go with this query, hence determining the product category names in order to have your product being searched. Alongside, you want to optimize the use of keywords in a blog post about men's jeans. 
Here we have a pro tip for you: look into "Related queries," sitting on the right side of the "Related topics" section we just talked about.
Of all the 25 queries, many of them contain a word on fitting or color. Here, this screenshot shows the second query comes with the word "skinny", while the third and fourth of the listing are jeans in color white. If you look at the latter queries in the next pages, the listings go on, such as red and black. These results suggest that you might want to create a product category based on fitting and color, such as "skinny jeans", "black jeans", "white jeans", and "red jeans", etc. 
Alternatively, consider including keywords in your product page, as well as in the product name. For example,  "men's pants" or "jeans for men" should stand great chances of attracting high search volume and also make a sensible category name for this clothing type.
4. Promote Your Online Store Around Seasonal Trends
Not only do climates have seasonal changes, but even businesses also have seasonal trends to observe. This factor can critically impact the success of your online store business. Looking at monthly sales in a year's span, surely there will be peaks and dips. In peak seasons, competition and sales will increase in full force. In low seasons, you might start selling products with seasonal trends. 
Let's dive into how seasonal trends work with a "summer" product: air conditioner.
Interestingly enough, the data here reveals that air conditioners are not only trending in summer but in winter, too. In January, we see the product's first peak of the year, and the growing trend continues to be on the rise till June. In November, there's a plunge in search volume. 
Let's say it's November, and you plan to start selling air conditioners on an online store. That plunge in numbers makes the product seem discouraging in terms of sales. Contrastingly, it's actually a great time to start your e-commerce store. With a couple of months ahead of the seasonal spike, you get some time to build your air conditioner business, and by January, you are ready to launch your business officially and catch on to the seasonal trend!
But what should you sell during the off-season? Try products that naturally go with the products on your store, except that they would still be in demand during the off-season. For example, air conditioner brands often sell heaters as well, so heaters might be a category to explore during the winter months. Have a look at its trend:
Since heaters are growing in popularity from September to December, this makes a great product to sell during the air conditioner off-season as well as closing the seasonal gaps.
5. Google Trends – YouTube
Many may know of Google Trends for its use to improve website performance, but fewer insiders know about this trick – you can use Google Trends to boost your social media reach, especially in the case of YouTube. 
For example, we found that by typing "song" in YouTube's search bar, the most used keyword was "song trends 2021." Now, if we plug that into Google Trends, we would get:
The interest for the term skyrocketed in January 2021. Surely by adding the year to the keyword makes it a popular search term at the beginning of the year. However, if we head back to YouTube and search "song trends 2021", we may find something quite different yet interesting in the search result:
As you can see, the publishing dates of these top videos date back to 2020. Why? Most of the time, vloggers would create content ahead of the turn of the year in order to catch the trending pattern on traffic. If your plan is to catch on to the growing trend with "2021" in the keyword, be sure to publish your trend video sometime in January to capture the timely spike in search volume.
Now let's step back and rework this logic. To make sure this year-to-year rise-in-search methodology works, let's use Google Trends and run a little experiment. If we test with keywords such as "Christmas Gift 2020" and "Christmas Gift 2019", this is the data we can gather:
Tracing back to both 2019 and 2020, the search for Christmas gifts started way ahead of the festive season itself. In fact, the earliest growth of the trend began back in August. Having observed this annual pattern, it proves that the assumption stands: that users usually search ahead of yearly events, like turn-of-year or festivities. 
Based on this user behavioural pattern, it is fair to say the same pattern repeats, and that content should be published two to three months ahead of the event to pick up the trend.
Thus, we can expect YouTube users to start browsing the keyword "song trends 2022" earliest by October, and that relevant content should be ready by then.
If your video content is suffering from seasonal low periods, optimize your email list. Blast an email to your customer base during the off-seasons to drive traffic to your video and boost popularity again. Google will catch the traffic you are sending to your older video content, thus grant your video a higher position where you can attract even more views to it. This strategy is perfect for rebooting any popular evergreen videos with views declining, too.
6. Google Trends – Google Shopping
When it comes to creating Google Shopping Ads, Google Trends is especially helpful in terms of determining the best time to create ads. Let's assume you're a fashion retailer trying to promote a pair of brand new sunglasses in your online store. With Google Trends' Google Shopping feature, the graph indicates the best months for your ads to perform best:
As the graph shows, search volumes for sunglasses in Google Shopping rises from January to July. Followed by a small dip in August, the search volume in Google Shopping rises again in the next two months, November and December. As the retailer, you should start selling and promoting your sunglasses between January to July as well as November and December. 
Where to Find Trending Products to Sell Online
Starting your search in the right place makes a great start for your e-commerce success. We recommend the following sites as a great basis to find trending products to sell:
eCommerce Marketplaces
With high traffic and high search volume, e-commerce marketplaces are great platforms to provide insight into what trending items people are purchasing. Some marketplaces have even dedicated special pages to feature new and best-selling products.
See Amazon's Movers and Shakers – the dedicated page to rank products with top performance across different categories on an hourly basis. Most Wished For is another great site to look out for top trending products that people are planning on purchasing next.
It is also a common practice for e-commerce marketplaces to implement automatic suggestions in the search bar. Such suggestions are based on what most customers are frequently looking for. Taking Etsy as an example, the site's search bar comes with this "Popular right now" feature where you can easily find the most searched trending items.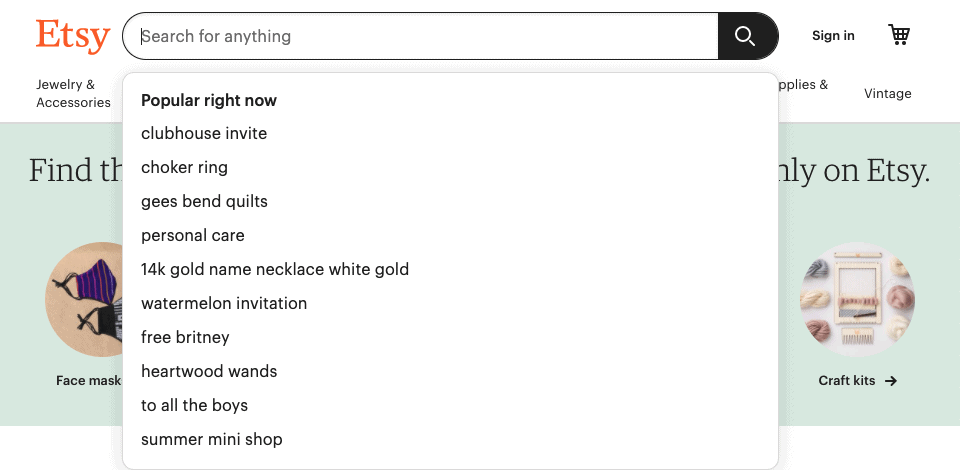 Taiwan-based designer goods e-commerce platform Pinkoi has similar features, too. With a dedicated section for "Featured" items right beneath the search bar, the platform sorts top trending products that are most in-demand by themes. That also provides great pointers in terms of what people are eyeing and what topics or occasions are trending.
Shopify is famous for hosting e-commerce websites for online store owners, but its blog is actually a hidden gem. The platform has curated a listicle of top trending products to sell with its internal data, and it promises to update this post with the most recent growing trends constantly. Be sure to bookmark this post for later referencing. 
Social Media Networks
Recent studies show that 74% of online shopping customers go for social media channels and refer to influencers' postings.
To catch on to this target audience reach and great product exposure, social commerce, and influencer marketing are the prime platforms for discussing best-selling products. Such platforms have become an unmissable opportunity for sales.
Break into the Twitter and Instagram dialogues with popular hashtags – see what trending items are under the radar. As for Pinterest, try using Pinterest Trends as your visual trend watcher, referring to the platform's annual trend report, or making use of its search bar to look for trending keywords.
Likewise, Facebook and Reddit serve as great niche communities with business potential, too. Examining the popular topics among discussions will give you a rough idea of what trending products to sell when targeting their specific demographic.
Trend Report Sites
There are readily available platforms that can find out the topics and products online shoppers and internet surfers show interest in. Here we have a list of these sites:
i. Google Trends: This marketer-friendly tool is known for reflecting what people search on google. Narrow down your search using its filters, such as region, period, topic category, and type of search, to find suitable product ideas or harness the best results in your business's best interest.
ii. Think with Google: Another great product from Google, its Category Trend feature can help gather product ideas and crack top trending products to sell.
iii. Trend Hunter: This community-based website provides rankings of up-and-coming and popular ecommerce bestsellers on a monthly basis. By subscribing to its premium version, you can even track topics and gain access to the trend reports at full range.
Iv. Pinterest Predicts: Aligned with the platform's visual-driven nature, Pinterest Predicts is a visually vibrate microsite with growing trends and themes categorized. The tool draws data from Pinterest search results. On an annual basis, the platform would also put together trend reports.