The year 2022 has been a year of recovery. With many countries continuing to loosen up on COVID-19 restrictions like the opening of borders, reducing quarantine time and alleviating public gathering policies, the negative impacts of the pandemic on businesses have been evidently receding – with export performances experiencing a steady rebound from previous lows in recent quartiles.
According to HKTDC Research, the latest HKTDC Export Index for Q3 2022 has increased by 1.9 points compared with the previous quarter to 32.8[1]. This growth indicates a continued optimistic outlook from exporters regarding their short-term prospects. However, the recovery rebound has been weaker than anticipated due to external environmental effects such as high inflation rates and global political tensions.
Read more about this season's market outlooks and exporter insights in the recap below.
Jewellery to Lead this Season
Of all industry sectors, the jewellery sector has successfully reigned over. Findings from HKTDC Research indicate a boom in jewellery export prospects, with a whopping 9.9-point increase to reach a sub-index high of 44.2 points. Optimism remains high with the Toys sector with 37.0 points, while the electronics and clothing sector lags behind the market with 32.7 and 31.2 points, respectively[2].

Maintaining a Positive Outlook on Asia
On major markets, exporters maintain a remarkably positive outlook on Asian markets, with improvements recorded for all related regions, while Japan tops the charts. HKTDC surveys show that Japan, ASEAN, and Mainland China markets recorded export sub-indices above the mean line with 48.4, 46.9 and 45.8 points, respectively. US and European markets were under-performers mainly due to over-inflation, monetary policies, and political conflicts. 

Reduced Pandemic Impacts on Exports
Although COVID-19 continues to affect 77.9% of export businesses negatively, there is a substantial shift from companies experiencing 'very negative' impacts to only 'slightly negative'. The number of respondents indicating that the pandemic has not impacted their business has also increased above 20%.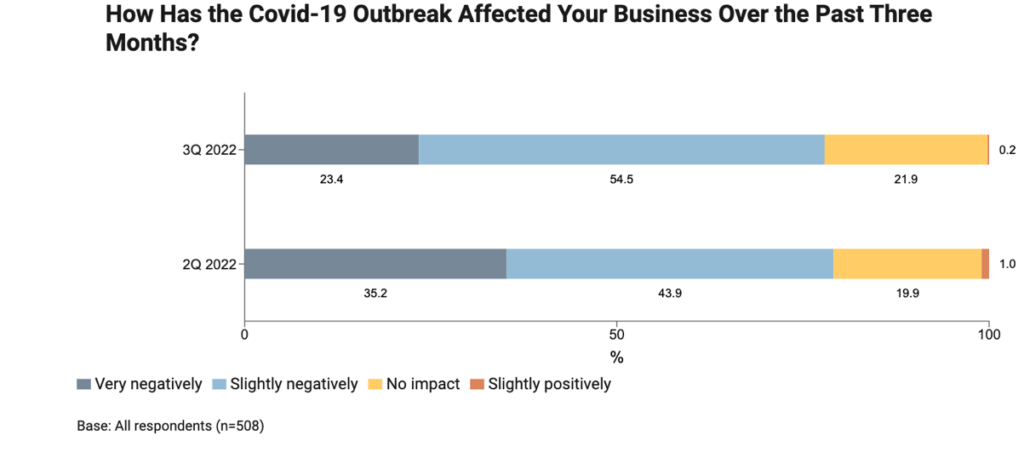 Previous key challenges led by the pandemic, such as increased transportation costs and disruptions to logistics, have also been greatly reduced. This indicates the easing of many supply chain issues which were predominant from the onset of COVID-19.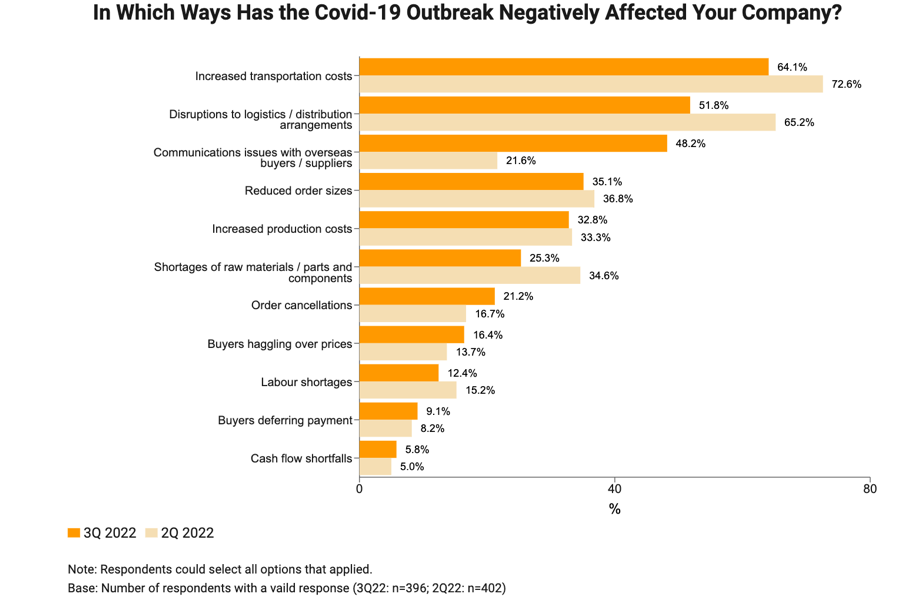 Effects of Mainland China's New Quarantine Policies
Since the onset of COVID-19 in 2020, Mainland China has enforced stringent entry policies of 14-days of centralized quarantine. In June this year, this relatively long-lasting policy has cut down to seven days of centralized quarantine and three days of home quarantine, providing positive impacts to over half of the exporters.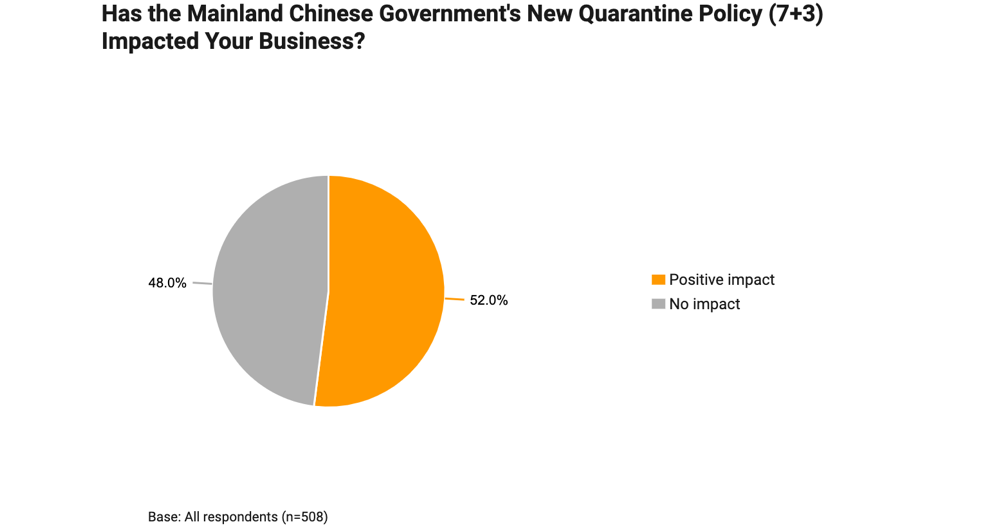 For many exporters, the new quarantine policy from Mainland China benefitted their business by allowing more flexible travel arrangements amongst firms and resuming cross-border trades. The reduced quarantine duration has also smoothened production lines and logistics from factories.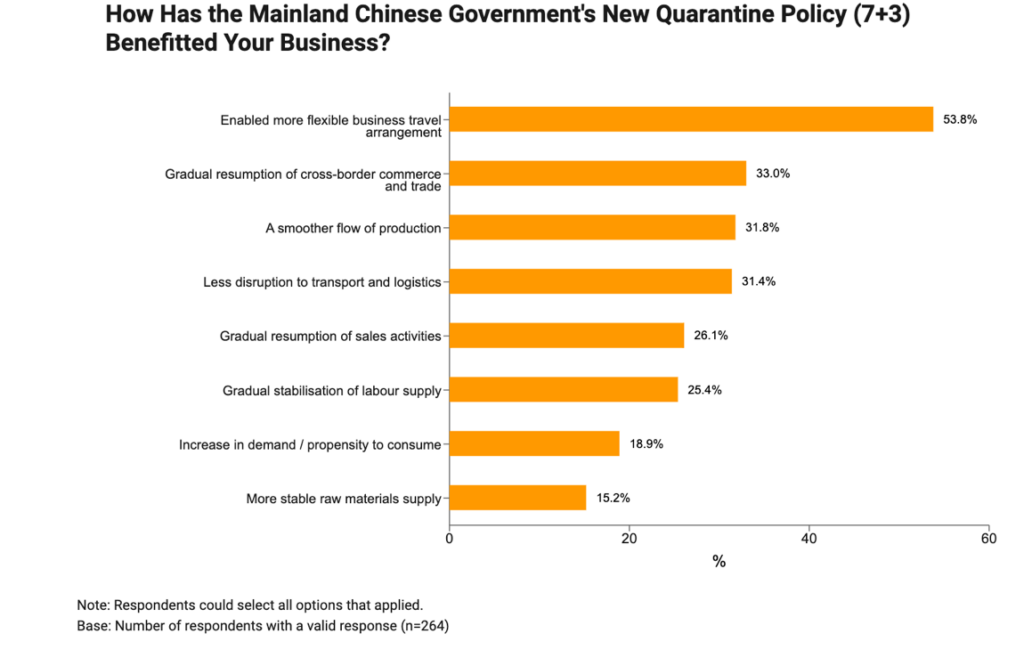 A Shift in Business Strategies
While prioritizing product development continues to be one of the most dominant business strategies to keep up with consumer demands, exporters have started to change their strategies to a more cost-based approach in light of the relaxed COVID-19 policies around the world and to pick up losses from previous years.
HKTDC Research discovers that exporters are now focusing more on cash-flow management and attempting to maximize profits by increasing unit prices and lowering MOQ. Diversification as a strategy has taken a less important role compared to previous quarters during the pandemic period.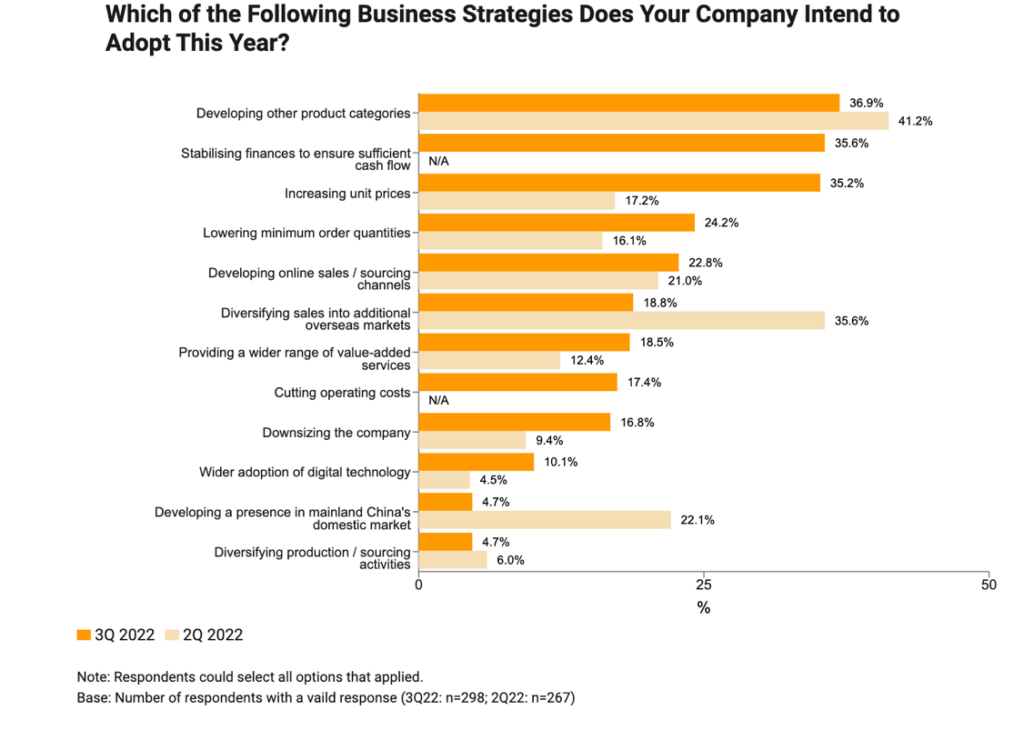 With a continued rebound expected in the upcoming quarters, businesses must constantly stay ahead of exporter trends and market movements to stay ahead of the competition. Keep track of more upcoming trends by following us on NewsBites, and boost your business resilience using our hktdc.com Sourcing platform.
hktdc.com Sourcing is an established B2B sourcing platform that reaches over 2 million international buyers and features over 130,000 quality suppliers. Powered by AI technology, the platform has multiple innovative functions which seamlessly match suppliers with buyers and bridge demand and supply gaps. You can learn more about hktdc.com Sourcing here. 
References:
[1] https://research.hktdc.com/en/article/MTE2ODM2MjY2MQ
[2] https://hkmb.hktdc.com/en/hpvYUgQA/market-opportunities/Exporter-confidence-continues-rebound