Like many luxury markets, the watch and clock industry took a massive blow to revenue ever since the COVID-19 outbreak. Economic uncertainties, lockdowns, and social distancing have all impeded activities related to watch purchasing, causing a plummet in industry. According to McKinsey analysis, global watch businesses reported revenue declines as steep as 30% in 2020, with Switzerland – a country with the biggest high-end watch market recording the steepest slump since the 2009 financial crisis[1][2].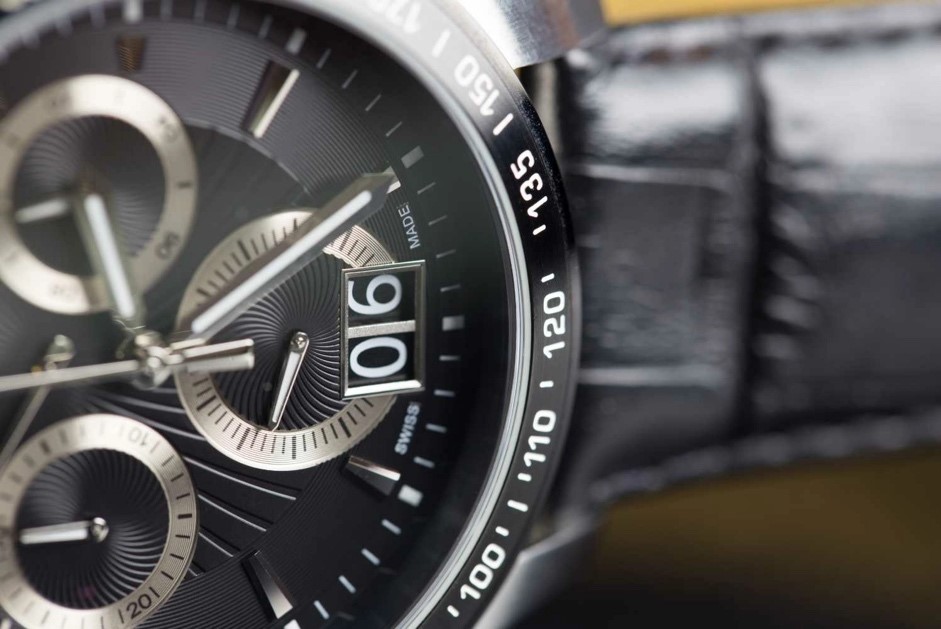 However, things are finally looking up for the industry. With the transformation of watch purchasing to e-commerce platforms and recovery in purchasing power driven by accumulated savings during lockdowns, the demand and potential growth for the watch and clock market are paramount.
As the timepiece market is expected to dominate sourcing trends in the second half of 2022 and 2023, businesses must keep updated on market trends to capture upcoming opportunities.
Understanding Buyer & Supplier Insights
According to a research survey conducted by HKTDC in September 2021, results showed an overall optimistic atmosphere amongst buyers and suppliers who anticipate better business environments and market growth in 2022.
1.Expected Growth of Overall Sales
In 2021, almost half of the respondents expected overall sales to grow in 2022, with buyers predicting a growth rate of 23% on average and exhibitors forecasting 30% – compared to less than one-third of respondents in 2019[3].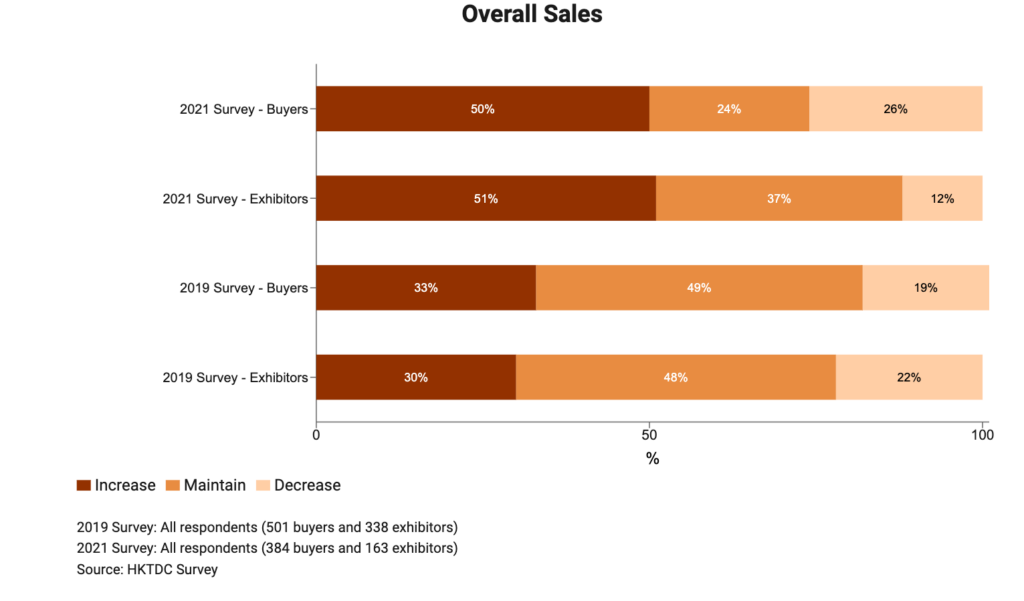 2.Digital Sales to Prevail
Due to lockdowns and the increasing importance of digitalization – a market shift expedited due to COVID-19; digital sales have played an even more proactive role than in pre-pandemic times. This rise in popularity is expected to continue in 2022.
According to HKTDC Research, the average proportion of sales from e-tailing accounted for 26% of overall revenue for those engaged in online platforms. More than half of the respondents indicated that digital sales accounted for more than 20% of sales compared to less than 40% in 2019[4].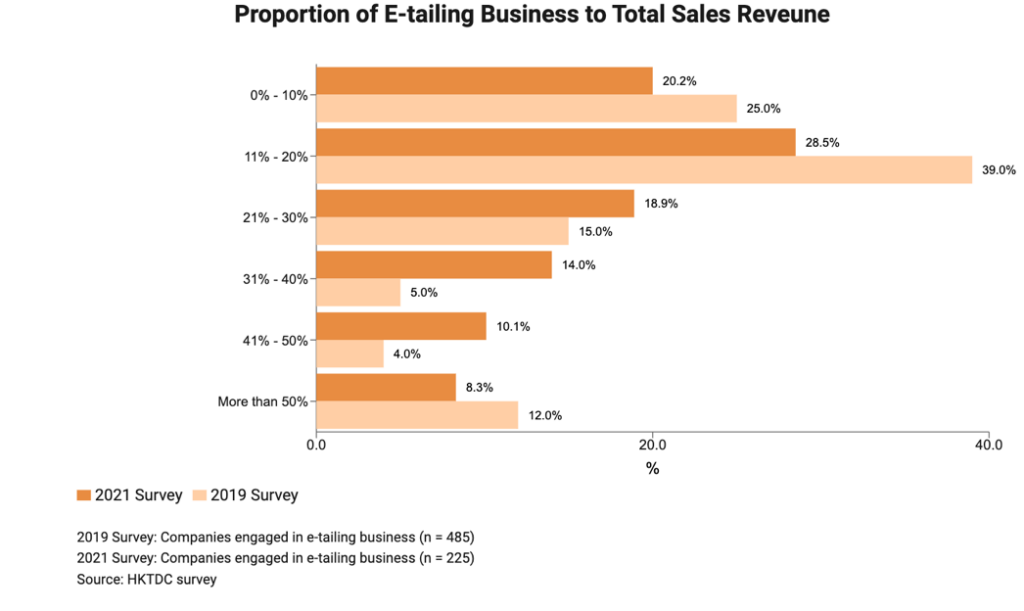 When buyers and suppliers were asked about product segments with the highest growth potential over the next 12 months, most responses shifted towards smart and sports watches. HKTDC Research indicates that 64% of all respondents chose smart watches as their answer compared to 38% in 2019 – showing a whopping 26% increase in choice[5].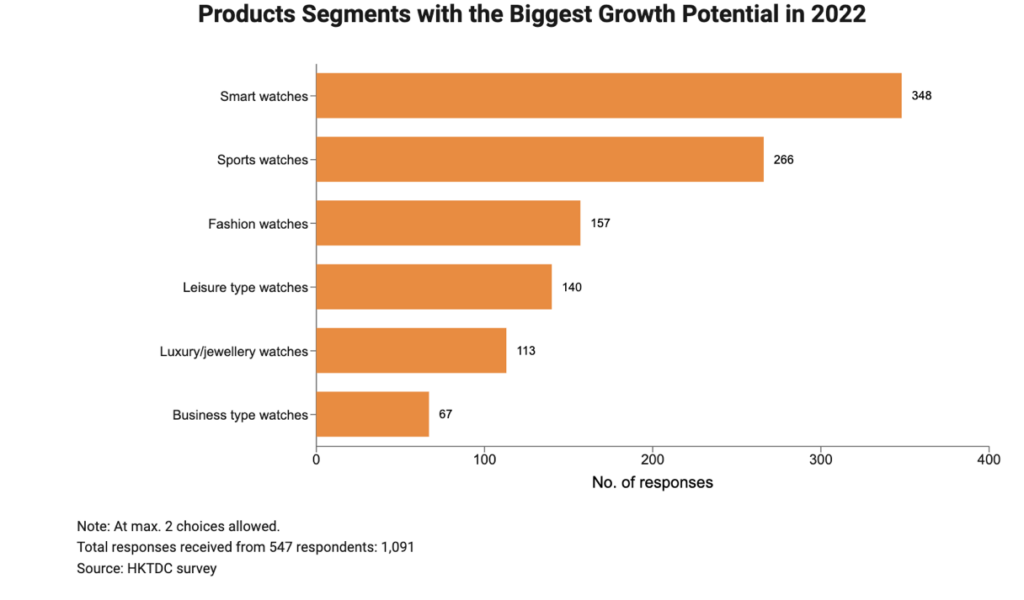 Product Trends to 'Watch'
Understanding trending products and upcoming consumer interests are essential to aid the sourcing process. Recognizing these market movements can help increase consumer traffic and ultimately boost sales. Coherent to the survey above, HKTDC Research reveals similar product trends in their data and industry profile analysis.
With fitness and sports activities becoming more prevalent in our daily lives, customers are increasingly interested in sports watches that feature ultra-lightness, comfort, water resistance and high durability.
Due to the pandemic, the general population has become increasingly health-conscious than before. To respond to this shift in interest, many watchmakers devoted resources to developing functions that monitor vital signs, body movement, temperature tracking and GPS systems.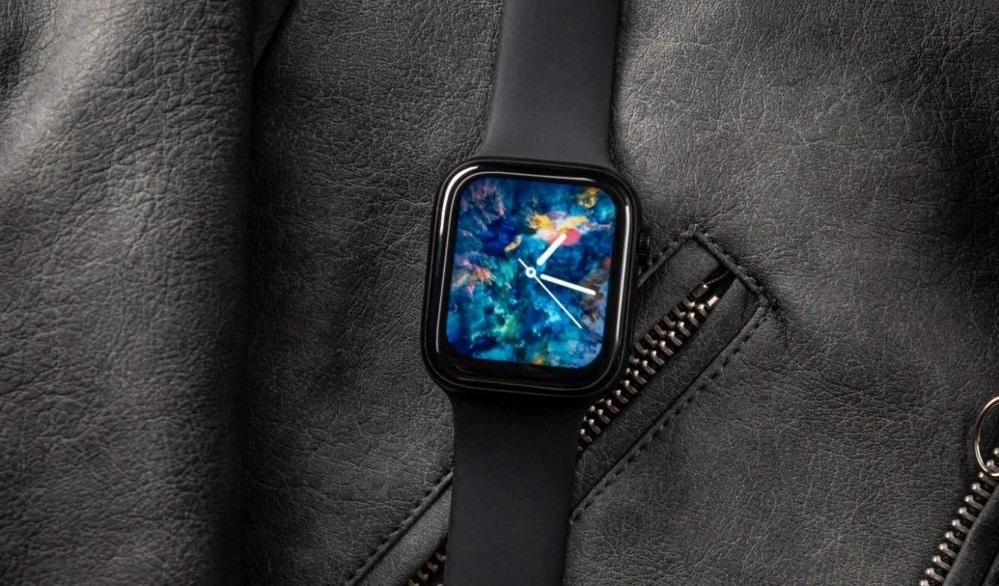 The jumbo‑case watch dial is one of the trending statements for the younger generation. For female consumers, designs with vivid colours such as pink and white are prevalent. For male consumers, wristwatches with chronograph functionality and a bezel are popular.
With the increasing population of eco-conscious consumers, some brands are creating wristwatches made from sustainable materials, vegan leather, and solar-powered watches to cater to these customers.
Time to Fulfil Your Sourcing Needs
Opportunities do not wait for anyone. As vital as it may be, understanding market trends mean nothing without execution. Keeping updated by working with current and reliable suppliers is of utmost importance to ensure business growth. Therefore, step one of success begins with well-planned sourcing.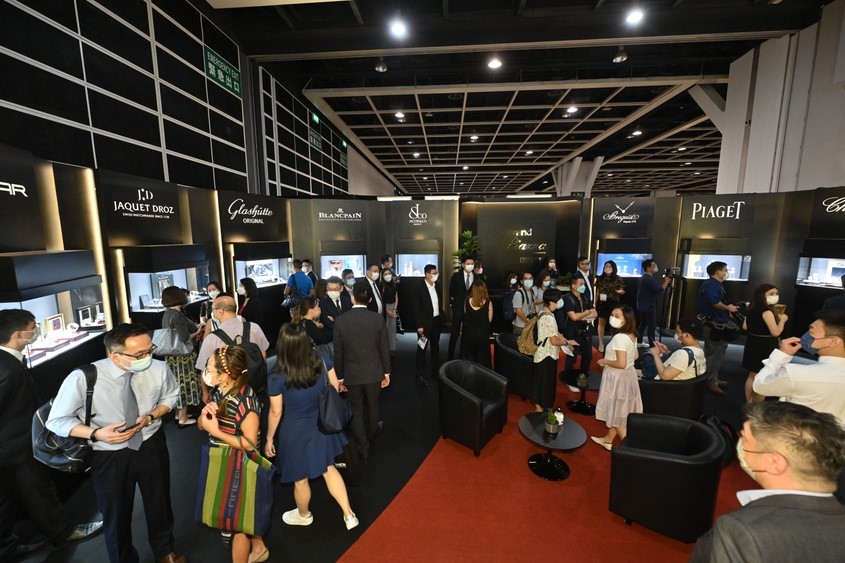 HKTDC's annual Hong Kong Watch & Clock Fair is the world's largest and most anticipated watch and clock fair today. To fulfil all your timepiece sourcing needs, the HKTDC fair features suppliers ranging from smart watches and high-end luxury watches to packaging, parts, and equipment.
Register now and join us in person at our physical fair from 7-11 Sep 2022 by clicking the banner below or through this registration link.
After the physical fair, continue your journey online and meet more exhibitors through HKTDC's brand-new online exhibition model, EXHIBITION+. This hybrid platform extends face-to-face interactions from our world-class exhibitions to an online smart business matching platform to help you connect with business partners proactively. Learn more about EXHIBITION+ here.
hktdc.com Sourcing is a reputable B2B sourcing platform that reaches over 2 million international buyers and features over 130,000 quality suppliers. Powered by AI technology, the platform has multiple innovative functions which seamlessly match suppliers with buyers and bridge demand and supply gaps. You can learn more about hktdc.com Sourcing here.