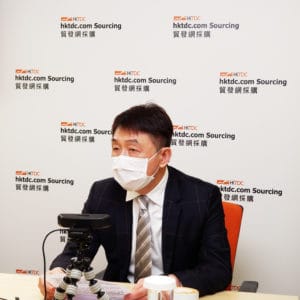 Seminars offer an assortment of invaluable knowledge, from the latest industry innovations to essential marketing techniques and tricks. However, with COVID-19 postponing social gatherings and networking events, it can feel like every missed meeting is a lost opportunity. Luckily, HKTDC has you covered with a series of professional webinars offering step-by-step tips and tricks, case study analyses, insightful perspectives and much more – all from the convenience and safety of your home!
Harnessing digital marketing is essential to adapt to the shifting business landscape. Our first webinar, "Digital Marketing: Your Ticket to Global Outreach," featured Mr. Benjamin Chau (Deputy Executive Director at HKTDC) and Ms. Angel Lam and Ms. Kathy Lau (Key Account Managers at Google Hong Kong), who shared their insights into recent procurement market trends and how SMEs could enhance their online presence through search engine marketing and other digital channels. The webinar also introduced HKTDC's Spring Virtual Expo and explained how suppliers could digitally showcase their products to potential buyers. 
The webinar series is supported by some 30 industry associations from Hong Kong and recommended to export-related businesses and companies looking to build digital marketing capabilities.
Missed the webinar? Watch now (in Cantonese).
Want to learn about boosting website visibility through search engine optimisation, growing your leads through omni-channel marketing, or the ins and outs of creating aesthetically pleasing web designs? Stay up to date with the latest HKTDC events and workshops!