Transportation accounts for approximately 23% of global greenhouse gas emissions, some 72% of transport emissions are contributed by road transport with Internal Combustion Engine (ICE) vehicles as the primary actor. 
The rise of oil prices and concerns about its impact on the environment leads to EV's growing popularity. Acknowledging this, most countries' government now looks to recognize the popularity of Electric Vehicles (EV) and set programs to ensure its prospects of replacing ICE in the future.
As global demand for EVs is expected to grow at least 50% annually until 2025, an underlying issue might become a concern sooner than expected. EV, as a vehicle, is relatively more straightforward to produce than an ICE. The key components such as drivetrain and battery pack, however, have only been made efficiently manufactured in a few select countries of the world.
As demand spilled over to developing countries, they often have some protection against their local industry by forcing local production/assembly to access their market. The supply chain of EV components would become an increasingly interesting topic for years to come.
While the automotive business undergoes evolution, ICE automakers and suppliers should proactively prepare their supply chains' future-proof following the trends.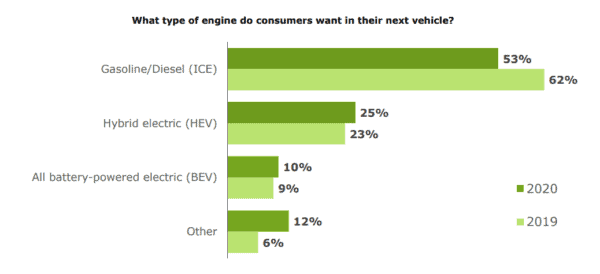 The shift in customers' perceptions of EVs in 2020 compared to 2018 has boosted EV growth, and more people are considering owning an EV as a realistic option. The cost has always been a concerning factor for EVs, where the majority of the earlier EV models are categorized as premium vehicles with the price point set accordingly. However, recently released EV models are targeting the middle-income segment and with a softened price point over the past few years driving global demand.
With EV cost becoming less of a concern for most consumers, there is a growing interest in other factors such as the availability of charging infrastructures and the bells-and-whistles on the vehicle itself.  These are key signs indicating the EV segment has evolved from a more niche commuting vehicle segment into a more mass-market consumer vehicle segment.
Promising Growth of the EV Industry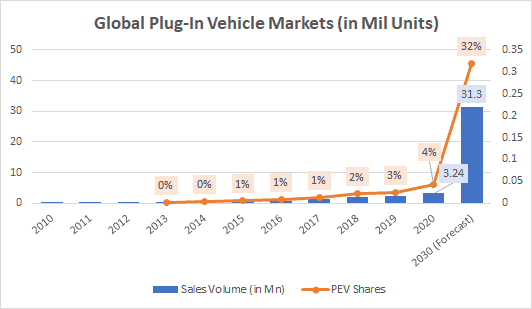 Driven by the shift in consumer attitudes and backed by government regulation, the demand has continually risen over the last decade. The EV industry experienced tremendous growth, from only 17,000 EVs on the road in 2010 to 2.26 million units in 2019 (2.6% shares of global car sales) and estimated to have 43% growth in 2020 and expected to reach 31.3 Million sales by 2030, growing at CAGR of 25%.
The market growth is mostly contributed by the developed economies.  Supported by aggressive domestic policies, China has taken the lead of the global EV market share at 49%.  This is followed by Europe at 27%, and the US at 14%. 
While the size and volume are smaller, there is some demand for EV that is generated in emerging economies.  The demand for EV in these economies is mostly in the form of electric scooters instead of the larger EV cars.  These emerging economies also often have some protectionism toward the imported vehicle in place, resulting in an even higher price of EVs that are not affordable for most of their population.
Opportunity That Trails the Trend
The battery industry has experienced a significant production surge since the rise of EVs. While batteries for EVs are still minor compared to overall demand, the EV industry comes strong. It has a more powerful position compared to other sectors. As a result, battery and battery component suppliers might have a better future by looking into EV-related products. 
Aside from the raw materials for batteries, wires, and other components supporting EV production, the opportunity exists in the "charging station" industry as EV adoption continues to increase. Data shows that by 2020, most Asian countries have more than 0.1 ratio between public chargers and the EV stock, while high-volume EV markets such as Europe struggle to meet the ratio. The lower availability of public charging stations also provides an opportunity for in-home charging equipment, which represents the B2C market.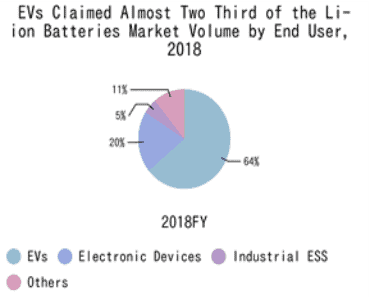 The demand for charging station hardware has driven more companies to focus on this sector, with the US, Europe, and China as the notable charging station hardware suppliers.  Suppliers from the US, Europe, and China do not only focus on their domestic markets but also have shown signs of increasing focus on supplying for the Southeast Asian and South American countries – as these emerging markets are beginning to show signs of increased EV adoption. 
The overall world EV stock is expected to reach ~150 million vehicles by 2023, up from ~10 million in 2020. With about 1.3 million public charging stations available as of 2020, at least another 15 million charging stations would be needed worldwide to fulfill the public charger demand of this growth.
Combined with the demand for home charging equipment, the market is estimated to be around USD 10 Billion in 2020, and projected to be about USD 70 Billion by 2026, presenting a unique opportunity for those who are in the EV-related sectors.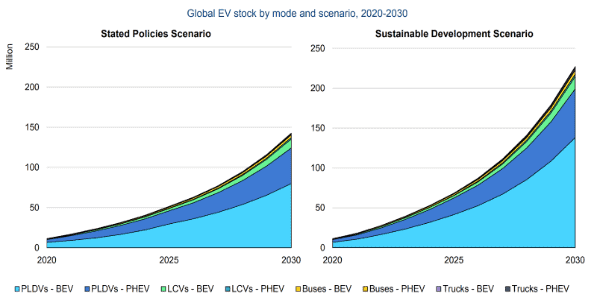 Looking at the EV craze, we also need to realize the impact beyond the vehicle industry. In the battery industry, we have seen how the surge in demand affects other sectors that rely on batteries, such as household electronics, mobile phones, and toys. The fight for resources is not only present in the battery industry. Other EV components such as wires, LIDAR, visual sensors, computer vision, and controller chips may also experience shortages in the future as increasing demand for related EV components will continue to divert these components into the global EV industry.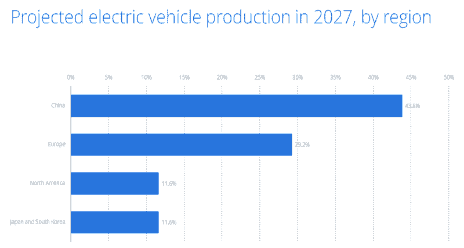 Currently, EV producers across the globe are already scrambling to look for alternative supplies.  A such, industries with shared components with the EV industry also need to start assessing the dependent and sustainability of their supplies and potential impacts on their businesses. In China, where most EV production occurs, there is already a shortage of materials that affects the overall electronics industry. Components such as chips, metals, and wires are in shortage. As China is forecasted to produce 43% of the world's EV by 2027, this fight for resources is likely to become a vital issue.
Implication to International Trader
High demand for EVs will translate to demand for key EV components and supporting products.

Batteries are high on the list, and battery components are high in demand.

Major opportunity in charging equipments, especially for countries that are just in the initial phase of adopting EV.

Potential shortages of other EV components such as batteries, wires, and chips may emerge. Buyers from industries sharing similar components with EV industry should start to assess their supply chain for sustainability and develop long-term contingency plans.
EV industry experienced tremendous growth driven by the shift in consumer attitudes and backed by government interventions (i.e. regulations or incentives)

Mass deployment of EV charging points and safety aspects of battery technology are becoming top concerns of EV adoption over cost or car pricing
Prominent EV manufacturers will continue to increase their global footprints with a localization manufacturing strategy to reduce production costs. 

The supply chain of EV components and production will, at one point, move towards where cost is lower (i.e. developing countries)

Demand on smaller EV vehicles across developing countries (e.g. e-scooter) as market entry product 
Content contributor: Ipsos Strategy 3
Ipsos Strategy3 is a dedicated advisory and consulting division of Ipsos Group S.A. (a publicly listed – EPA:IPS –  multinational market research and consulting firm with headquarters in Paris, France).  Ipsos Strategy 3 combines management consultancy with research and analytics to help businesses define the most relevant, impactful, and differentiated growth strategy. Leveraging the research capabilities and global reach of Ipsos, our multidisciplinary team of professionals having diverse backgrounds as management consultants, brand strategists, digital and innovation experts work together to answer clients' complex business questions on customers, markets, brands, innovation and strategies for future success.