Cities worldwide are undergoing a digital transformation, a technological trend widely known as smart cities that are changing how we interact with the world around us. One area, in particular, that is key to the development of smart cities is mobility. With an increasing number of urban dwellers, challenges such as traffic congestion and overstressed infrastructure have reached new heights for many cities. Thankfully, with technology and innovation, it comes greater opportunities in disrupting the status quo, helping people to move around in a faster, safer, and cleaner way.  
The convergence of a number of industry‑changing forces and technologies is ushering in an exciting new age of transportation ‑ the era of smart mobility. In general, smart mobility encompasses a digitally connected approach to today's mobility and travel problems. It is a concept of sustainable urban mobility that uses technology to provide accessibility, integrated transportation systems, and solutions to the environmental issues caused by traffic demand.
Global Trends and Developments
Forward‑looking cities around the world have already started embracing innovation to address mobility‑related challenges. Smart mobility solutions might take form of intelligent transport infrastructure, digital services and mobile applications that allow a more efficient use of existing transportation systems, and new transport methods like car sharing and autonomous vehicles.
1. Mobility Services in Improving Access and Citizen Experience
To enable seamless and efficient travel across different modes of transportation, real‑time data is considered utterly useful for travellers, transport operators, and urban planners. By leveraging reliable real‑time data, it allows enhancement in travel experience, more efficient use of transport resources, and improvement in future infrastructure planning and transport service provision.
In Hong Kong, transport operators have capitalised on the advent of big data and technology to bring greater convenience to travellers. Rail transport service provider MTR Corporation allows passengers to plan their itinerary on both its website and its mobile app, simply by entering their starting point and destination. Information such as estimated journey time, points of interchange, and ticket fares are provided. Public bus operators, namely Kowloon Motor Bus, New World First Bus, and Citybus, also provide real‑time estimated arrival times on their mobile apps as well as on display panels at bus stops.
In addition, smart payment and ticketing services contribute to the user experience and convenience of multi‑model transport systems. Using a smart card to pay for transport services has become commonplace for travellers, and smart cards are increasingly being adopted in retail outlets as an urban payment system. Some examples include the Octopus card in Hong Kong, Easycard in Taipei, and Suica in Tokyo.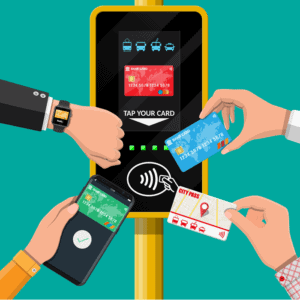 With cities increasingly going cashless, there has also been a shift towards mobile‑based ticketing solutions for greater convenience and efficiency. E‑tickets with QR codes are gaining popularity as a substitute for physical tickets. As Near Field Communication (NFC) technology matures, passengers can conduct contactless payment via electronics and wearable devices such as smartphones and watches when travelling. London, for example, supports contactless payment via Apply Pay, bPay by Barclaycard, Google Pay and Samsung Pay on various transportation systems, including the London Underground, public buses, river buses and national rail.
Under the umbrella of sharing economy, there is the emergence of new forms of urban mobility such as car sharing, bike sharing, ridesharing, and on‑demand ride services which allow cities to take full advantage of the idle capacity of transport resources. Shared modes of transportation have the potential to offer environmental gains and address social issues, such as mitigating the effect of traffic jams and pollution and reducing the demand for limited parking spaces.
In pursuit of a car‑lite future, Singapore is taking the lead globally in terms of shared mobility, according to Deloitte City Mobility Index 2019. By discouraging ownership of private cars through high taxes while maintaining affordable and quality public transport services, the island nation has been successful in promoting shared mobility. Its success is particularly evident in the widespread popularity of ride‑hailing apps Grab and Gojek, as well as the availability of various car-sharing and bike-sharing operators.
In fact, ridesharing is among some mainstream shared mobility services today, with the industry dominated by a number of global and local providers. Uber, for instance, operates in more than 65 countries. Other regional key players include Lyft in the US, Didi in mainland China, India's Ola, and Careem in the Middle East and North Africa.
3. Traffic Management and Parking
Advances in sensors and the internet of things (IoT) are now offering a major leap in monitoring traffic conditions. With sophisticated analytic technology, it is now possible to detect the real‑time volume of vehicles and pedestrians to minimise congestion, promote walkability and detect traffic incidents.
Alibaba's City Brain system in Hangzhou, where the Chinese tech giant is headquartered, uses sensors and artificial intelligence (AI) to gather locational information of vehicles and analyse it in real-time to coordinate road signals and ease gridlocks around the city.  The implementation of City Brain has helped Hangzhou improve from the fifth worst city in the country in terms of traffic congestion to 57th in just two years. The City Brain system is now implemented in more than 20 cities in mainland China as well as Kuala Lumpur, the first non‑Chinese city to adopt this smart mobility system.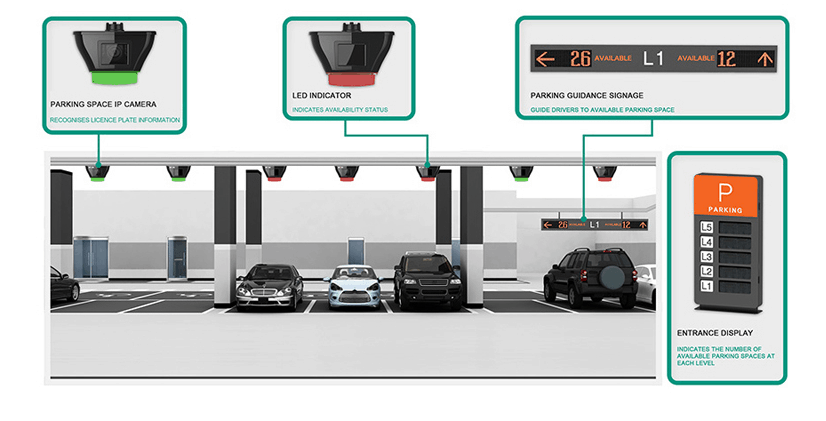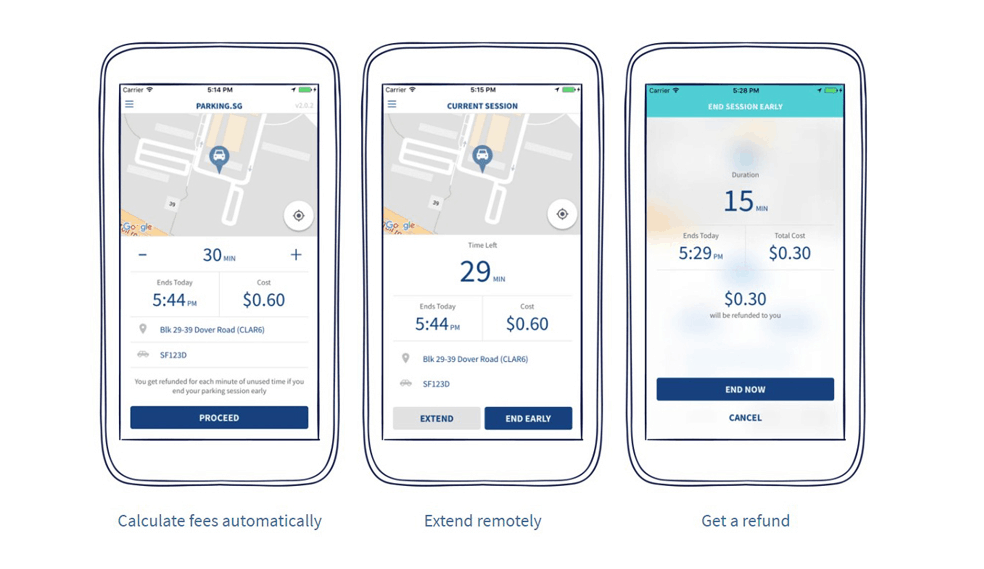 Apart from traffic jams, finding parking spots isn't easy for drivers in urban cities. In order to provide better parking experiences, cities are adopting technologies to effectively manage parking spaces and enable greater convenience to drivers. In Singapore, parking has been digitised in several ways. In large‑scale parking facilities such as car parks at Changi Airport, a video‑based parking guidance system with sensors was installed to monitor the real‑time status of the car parks. Such IoT‑based system is able to identify licence plate numbers, detect the presence of vehicles and their entry and exit times. In terms of payment, the country has also replaced traditional paper payment coupons with e‑payment across all public car parks and parking spaces, where users can pay short‑term parking charges through mobile devices and extend their parking session remotely via the Parking.sg mobile app.
4. Electric Vehicle and Autonomous Transport
Electric vehicles (EVs) are proliferating globally at a rapid pace, with sales boosted by the support of governments looking to meet targets for cutting CO2 emissions. In 2019, global EV sales were close to 2.3 million.*[1] More than half (52.8%) of those were made in mainland China, where a solid commitment has been made to boost the production and adoption of EVs through extensive subsidies and tax breaks. Integration of EVs within smart cities through the provision of comprehensive battery‑charging facilities will call for significant reduction in transportation costs and promote a greener and more sustainable mode of transport.
The future of urban mobility may also lie in autonomous transport, with increasing numbers of cities piloting self‑driving cars and rolling out driverless public transport. Waymo, a US self‑driving technology company which is a subsidiary of Alphabet Inc., successfully launched the world's first self‑driving ride‑hailing service in Phoenix, Arizona, in December 2018. In Asia, cities are also fast‑tracking the testing of autonomous buses. The Chinese city Zhenghzou, for example, dispatched Yutong Bus's 5G electric self‑driving buses in an open‑road trial project in June 2019, while Singapore has launched a public trial of driverless buses in Sentosa and the campus at Nanyang Technological University.
*[1] EV‑volumes.com
Opportunities Aplenty for Smart Mobility Solutions
The arrival and increasing popularity of dynamic, smart mobility services offer promising new possibilities for making modes of transport more efficient, sustainable, and affordable, especially in developing nations such as ASEAN.
Transportation challenges in ASEAN have been growing in scope in recent years. With a substantial population in ASEAN cities (in exception to Singapore) relying on personal vehicles to commute, it has led to congestion woes, in addition to the already insufficient public transport infrastructure and services given the urban sprawl. In Jakarta for example, the annual average number of hours that a commuter spends in traffic is estimated to be 150 hours (which equates to more than six days).*[2]
With an eye to solve their transport‑related problems, ASEAN cities are actively looking to infuse smart mobility solutions and allow room for private sector innovation, and in turn, many countries outside ASEAN are ambitiously looking to seize the opportunities on offer. In late 2019, South Korea and ten ASEAN member states agreed to form a consultative body for bilateral exchanges and participation in the smart city field. In the same month, ASEAN and mainland China issued a joint statement on cooperation, aiming to strengthen cooperation platforms and encourage partnerships between ASEAN and Chinese cities. 
It is therefore opportune for Hong Kong companies to explore collaborations in advancing smart mobility developments in ASEAN. Given its forward‑looking smart mobility roadmap and efficient public transport system and citizen mobility, Hong Kong's smart city experience could help ASEAN cities replicate its success through collaborations and partnerships. Many ASEAN cities, such as Kuching in Malaysia, Mandalay in Myanmar, Cebu City in the Philippines and Da Nang in Vietnam all have their priorities in improving transport for their citizens through digital transformation. Some potential areas Hong Kong companies could explore include transport data analytics, traffic safety and security technologies and infrastructure, route‑planning mobility services, and integrated smart card and payment systems. More information on city‑specific focuses in ASEAN can be found here.
*[2] INRIX 2019 Global Traffic Scorecard