ChatGPT is continually launching new versions and people are being distracted by the many AI technologies generated – which is the best for SMEs' use? We have shared earlier how to use generative AI for copywriting and new business, and in April, Digital Academy brought to you the "Backend episode", the third session of our "SME AI Applications Trilogy".
In April's Digital Academy's webinar, Keith Li, Co-founder and CEO of Innopage helped SMEs lower costs while increasing effectiveness to improve performance and unleash potential with his backend exploitation experiences! The discussion covered the following topics:
Talent Recruitment & Screening
According to Keith, ChatGPT is useful in business applications such as marketing, sales, customer service and human resources. For example, the technology can help generate job description and requirements in the recruitment process. With appropriate input of prompts, it can also effectively screen candidates' resumes and consolidate the qualifications and experiences of different candidates in a table format.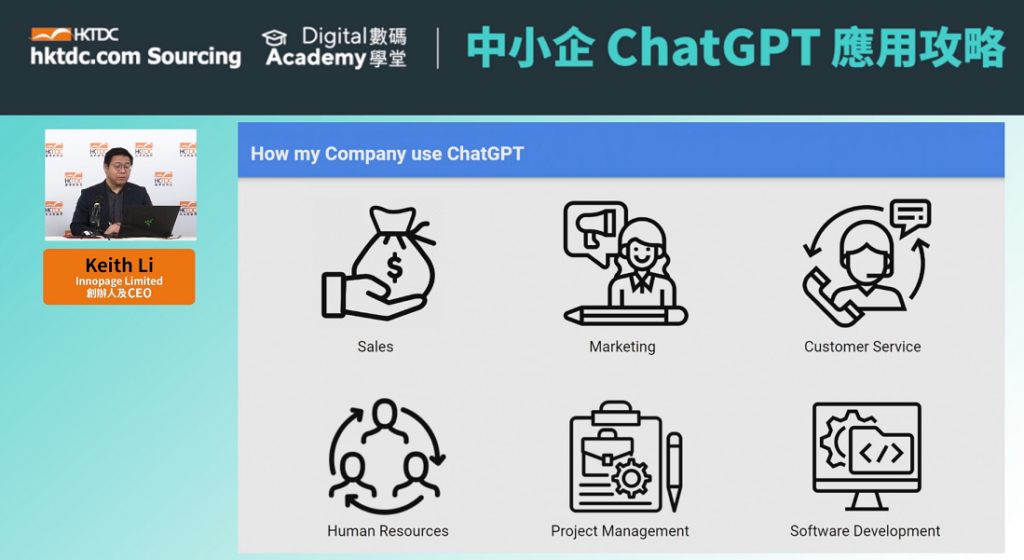 As a reminder, Keith suggested using the API version of ChatGPT for the resume screening exercise, as input of sensitive and confidential personal information to the web version of ChatGPT maybe used for training the language model of ChatGPT and result in privacy breach.
Aside from HR routines, companies can also use ChatGPT to build a decent website with responsive design. Since ChatGPT has a large database of webpages, it can meet different user requirements to design a website and provide a better UX. Keith believed the best thing is that ChatGPT can design and customise the layout over and over many times without making a complaint!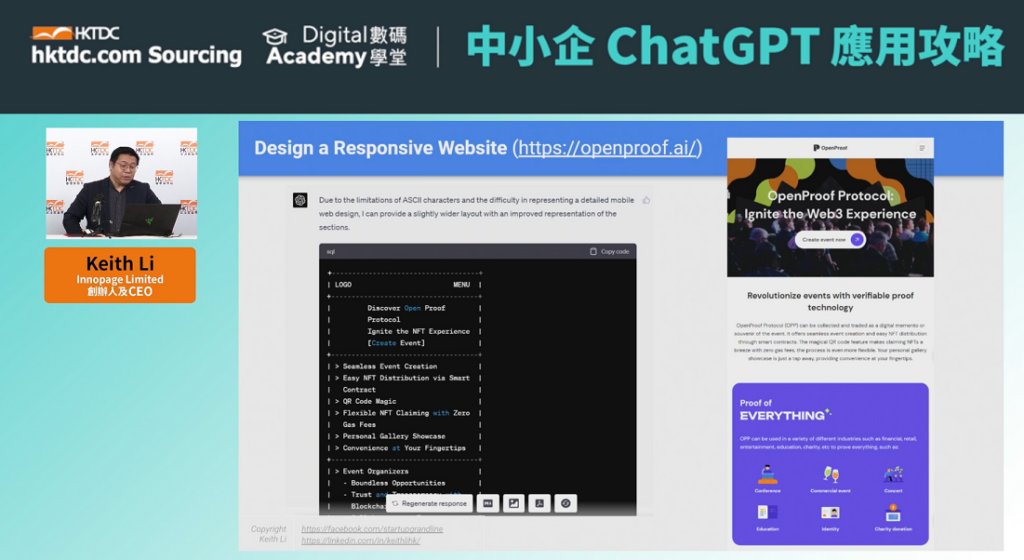 At the end of the webinar, Keith shared his thought that ChatGPT is only an assistant and will not completely replace humans. Nonetheless, those who fail to operate AI may lose the competition.
Watch the Webinar Recording Now (In Cantonese):​
Upcoming Webinar on May 31!
Interested in more digital insights? Mark your calendar for the next Digital Academy's webinar: Xiaohongshu Playbook for SMEs, Free AI Tools Recommendation : 2023H2 China Marketing Trends (in Cantonese only) happening on May 31, where MemePR Assistant Director of Strategic Development Carri Yeung will analyse online marketing trends in Mainland China for the second half of 2023 against the backdrop of the hottest social media in China – Xiaohongshu (Little Red Book). Register now by clicking below image: 
Disclaimer
This website may contain material sent to the HKTDC by third parties. Without prejudice to any rights, remedies and interests that HKTDC may have, HKTDC is not responsible for any error, omission or inaccuracy in the material. HKTDC reserves the right to omit, suspend or edit any material submitted. The opinions, findings, conclusions and recommendations expressed in such material are those of the authors thereof, and do not necessarily reflect the views of HKTDC.